After taking hundreds of photos on a trip, I pick my favorites to print and embellish them in a scrapbook. It's one of my favorite hobbies because it makes the trip feel like it lasted longer than it really did. And once the scrapbook is done the vacation will live on forever. Here's a look at my pages from our trip to Cuba in December of 2016.
Above: This Varadero page would have been so much easier with my Cricut machine, but this was pre-Cricut purchase. I used my circle cutter to cut out all the different sizes of the pictures and different paper.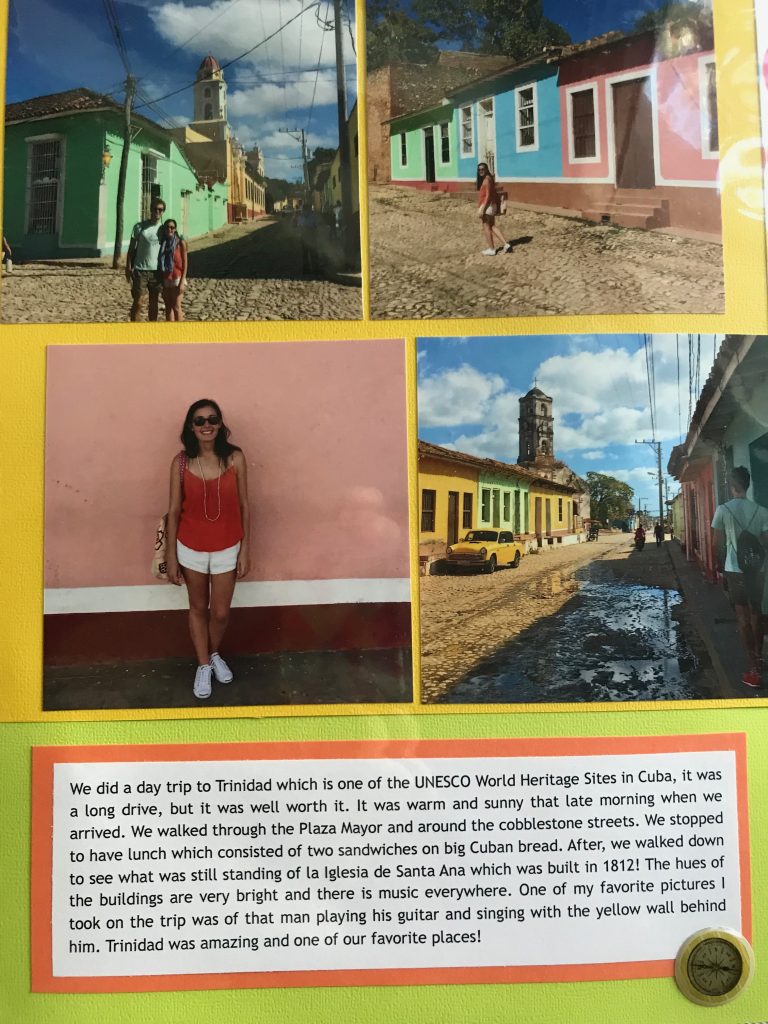 Above: I took some inspiration from the colorful Trinidad to make a colorful two-page spread. I made this title with paper paint that I have and foam letters. I think journaling is really important because you might not always remember what you saw, how you felt, or what you learned along the way. So I like to write notes while I'm on a trip so I can write journal entries later.
Above: I actually borrowed a coworkers Cricut before making my own purchase and the title to this page was my first test. It was so easy! And the double layered letters made for great texture to the page. That's when I decided to buy a Cricut bundle, the link will take you to the one I purchased. It was a good buy.
Above: Our day trip to Vinales took us to two different tobacco farms, but the second was our favorite. The man who taught us about the farm reminded us of a Cuban Woody (from Toy Story), he's pictured in the middle of the page.
Above: My two page Vinales spread was easy to make, I had a lot of photos and I simply typed and printed the journal.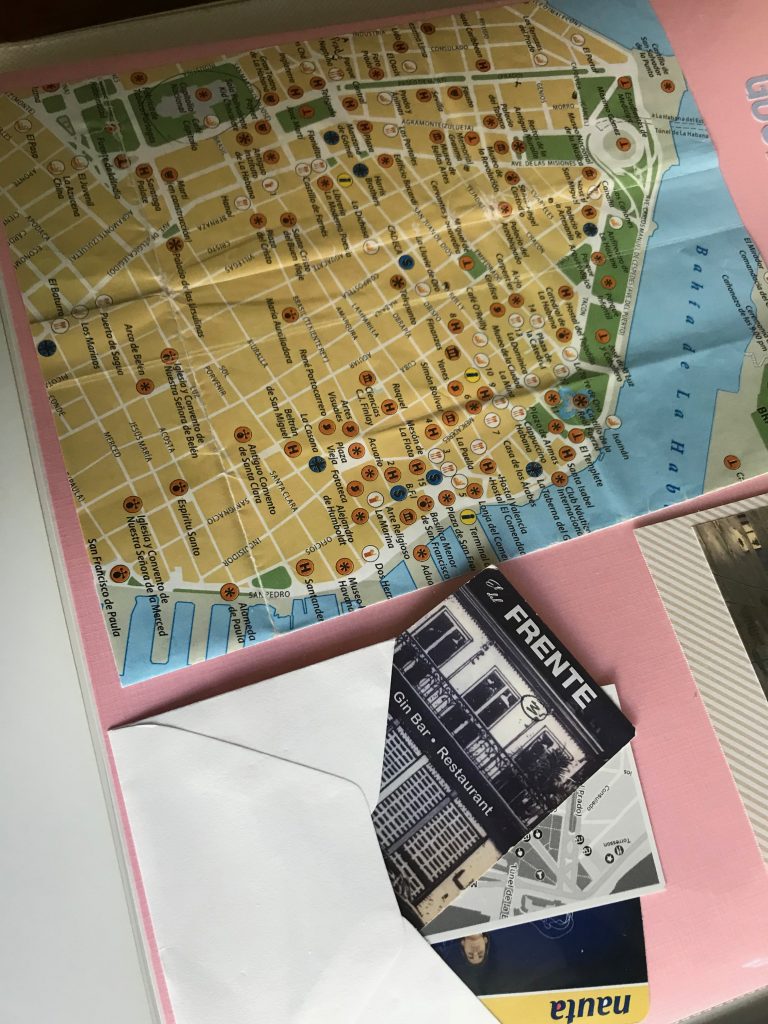 Above: For my Havana page I used a map that our AirBnB host gave us that we really did use. I also like to save business cards from places we ate. The one you see on top is from El Del Frente, which I highly recommend going to. The casual bar and restaurant is on the second floor which is a nice break from the busy streets of Old Havana. It's  decor is a hip retro american vibe and the food is good. We had a small dinner, we had croquetas and the garbanzo frito which was delicious.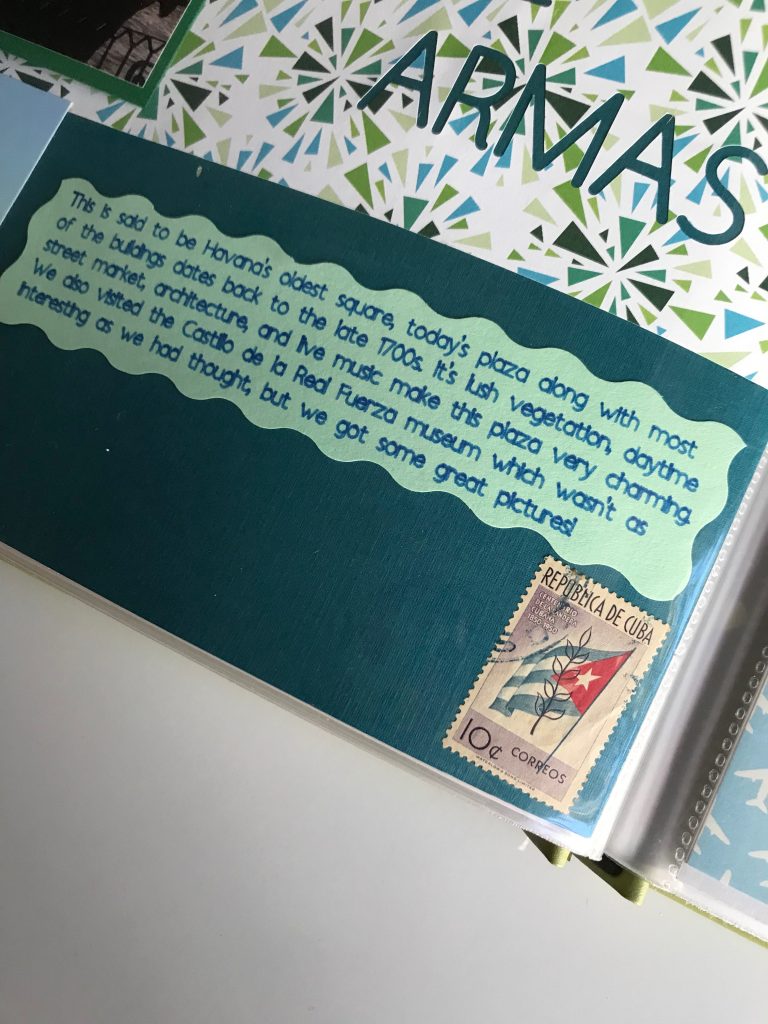 Above: I dedicated this page to the Plaza De Armas. I found this plaza to be so charming. It was a combination of the bright colors from the vegetation, the decaying buildings, and the vintage goods being sold in the center. I picked up the old stamp that's in the corner of the page there for a few cents.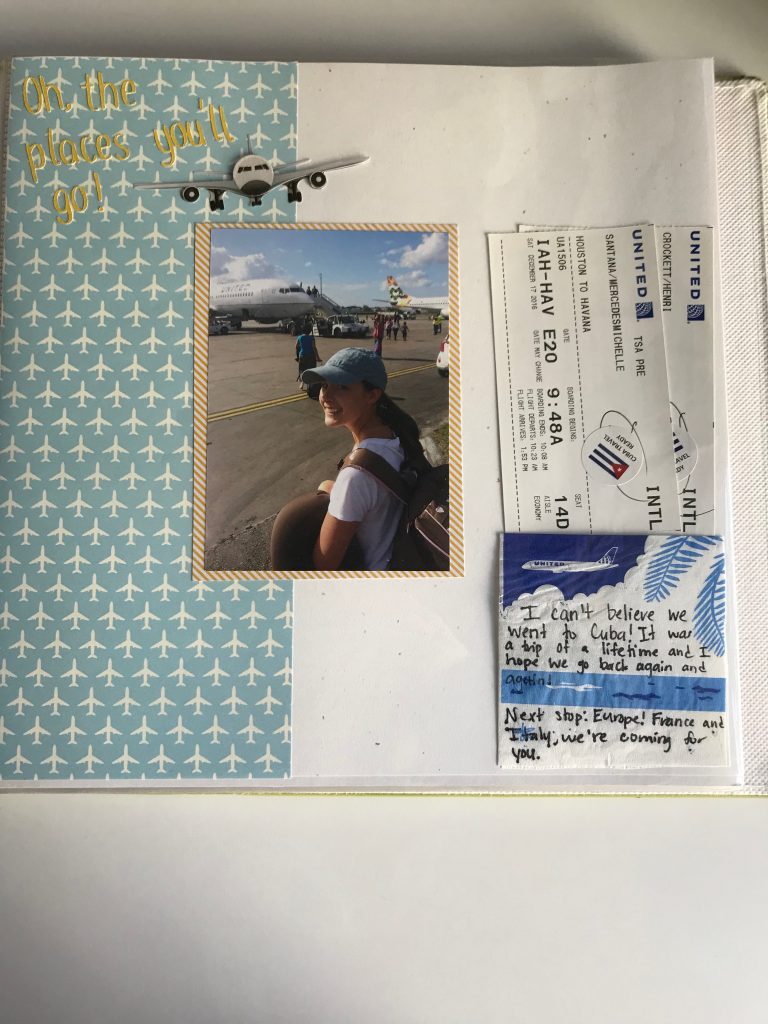 Above: For my last Cuba page I signed off by writing on a napkin we kept from the plane and inserting our plane tickets! FYI, they put those "Cuba Ready" stickers on your ticket before they let you onto the flight that will land in Cuba.