This past May I was lucky enough to go to Paris for two weeks to stay with my boyfriend Henri's grandparents. This was actually going to be my second time to The City of Lights, my first trip was in 2008 with my aunt, uncle, and cousin.
This time I was focused less on the fashion and more on learning all about an authentic Parisian lifestyle. I paid close attention to the community we stayed in, the daily patterns, and the Parisian way of life. I also tried my best to put my four semesters of French to good use.
Our first night there I could have stayed up all night starring at the view of the Eiffel Tower as it sparkled from our room. Life in Paris felt a lot like living in vignettes of Woody Allen's "Midnight in Paris" and sometimes I thought I heard the soundtrack playing as I walked the streets or stood on the balcony looking out at the city.
Paris has so much going on, but mixed in with it's own culture it makes time seem like it's standing still. One of my favorite activities we did in Paris was sit still. We had a picnic in front of the Eiffel Tower…I said I tried to live my best Parisian life, but I was doing this if it was authentic or not. (I confirmed this is NOT an authentic Parisian pastime, however young people will have wine and cheese in the evenings outside, but tend to go to other parks or down by the Seine.) We took the city bus, then walked to a boulangerie in the neighborhood near the Champ de Mars to pick up an authentic lunch: a baguette sandwich and a macaron for after. We enjoyed our lunch, the view, the weather, and of course the excellent people watching as we planned what else was on my Paris to-do list.
Rich in history, architecture, fashion, and desserts my list was getting long for what was left of the last week of the trip after we returned from a week in Italy. I wanted to do the things that Henri's grandparents as Parisian liked to do.
We went to the flower mart Fleurs d'Auteuil that his grandmother Annie liked and let me tell you, it put the selection at Trader Joe's to shame.
We went shopping at Galeries Lafayette and Printemps, the best department stores in the world. We ate a lot including crepes, le glace, and les macarons. Annie cooked delicious French cuisine most nights. Before dinner we spent time bonding over aperitif, which is basically happy hour and where the origins of charcuterie must come from. Almost every morning started with croissants fresh from the nearby bakery or madeleines and fruit. We also went to the local grocery stores which was high on my Parisian lifestyle list because I wanted to compare how stores are in France. It also gave me us the opportunity to stock up on chocolate we don't carry in the U.S. like Lindt Creation Pistachio Delight, which is AMAZING!
We did a lot of walking as we usually do and also made good use of Paris' excellent public transportation. We walked thru the beautiful gardens of Paris including the Tuileries Garden, Jardin des Plantes, and of course the Luxembourg Gardens. I highly recommend the Jardin des Plantes, Henri's cousins took us there and it was so lush and large I preferred it over the other gardens in the area. 
We stopped in the Louvre and the Musee' D'Orsay, museums and art are a major part of the Parisian culture despite the large tourist crowds. Annie and Jean (pictured below) prefer the Musee' D'Orsay.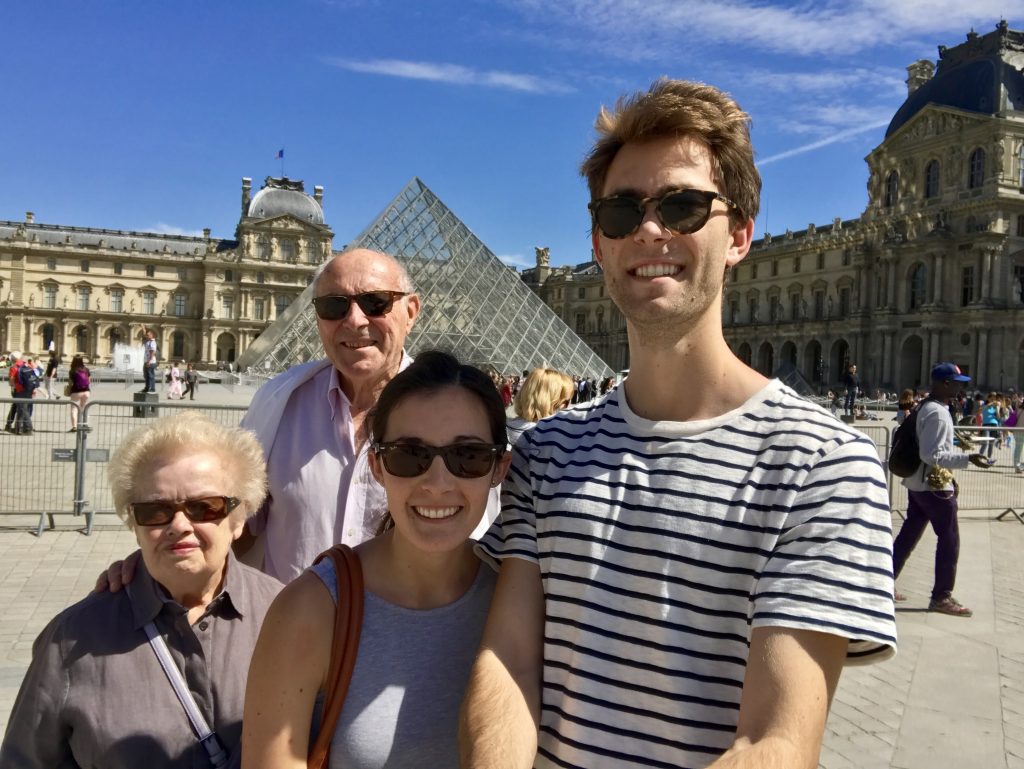 We visited the Notre Dame area on more than one occasion, the second time to climb the steps of Notre Dame. Also overlooked in that area is the Sainte-Chapelle, a stunning stain glass church that truly is a masterpiece. When you go upstairs it is wall to wall of glowing stain glass.
Île de la Cité also has another Instagram gem that's been taking over travel accounts, Au vieux Paris d'Arcole. This charming cafe is located at 24 Rue Chanoinesse, 75004 Paris, France, in case you want to look for it.
I also recommend crossing the bridge behind Notre Dame, there is picturesque shops, cafes, and a great gelato spot there. The walk over the bridge is nice too because the street is closed and there is usually performers playing music over the Seine.
So when in Paris explore the city, skip the tour bus and walk as much as you can to really absorb the culture. If you took French like I did, practice it even if all you can say is "c'est délicieux," and "merci." But by all means don't skip the tourist activities that also make Paris what it is. Bon voyage!