Day 1:
We arrived in Bangkok around 12:30 noon. Upon arrival we go thru customs only, there is no additional security. However, if you have a layover in China, like we did, be careful what you pack. I got our mosquito spray and a bottle of perfume taken away for not being 100ml, they we're both 4oz. 🙄 They also took my portable phone charger, luckily it was a free one, so don't bring those if you're carrying on only. Yes, I only carryon if we have a layover. I'll explain how to pack in a separate article.
We exchanged about $50 USD at the airport to have train money and extra for that day. The conversion rate at the airport isn't bad. The board states their price and the regular price, but you can get better rates at your hotel or a nearby bank. Before leaving the airport we stopped at an information stand for a map and directions to our hotel via the train. We also purchased a private tour for 3 of the temples for the next day. For $33 we got 3-4 hours with an English speaking guide and private transportation for both of us. We continued on.
Taking the train in Bangkok has been easy so far and it's incredibly cheap. It doesn't feel cheap since prices are in big denominations, but $1 USD is 30 Thai Baht so most things are cheap.
We checked into our hotel, the Holiday Inn Silom. It's the nicest Holiday Inn I've ever seen. Our room is spacious, the bed is comfortable, it's in a good location, and the price was right.
We are starving at this point and get a recommendation from the concierge, Than Ying. It was close but hard to find because they gave us a map that was not very detailed. We found the restaurant and enjoyed a traditional Thai meal to celebrate our anniversary. Noodles that are basically Pad Thai, a beef, and shrimp and crab stuffed fried fritters.
We then walked to the Patpong Night Market. This bustling marketplace is full to the brim with clothes, fake handbags, and designer shoes. We then walked thru the red light district streets of Patpong, but because it was only around 8pm the streets were quietly preparing for their night of mischief in dive bars and strip clubs.
I planned the night market wrong. I thought that Chatuchak was a night market and apparently it's not, it also wasn't nearby like I thought. Same with the floating markets, they're about a 25 minutes drive outside the main city. So we didn't see those but know that there are more markets in Chiang Mai.
We took the train back to the hotel, planned our next day, and got some much needed rest. I did get up around 4:30am after my 7 hours of sleep. Since I couldn't fall back to sleep I started doing more research on my favorite travel apps, Lonely Planet Guidebooks and Google Trips before writing this blog entry down. It's time to start day 2.
Day 2:
It's temple day! Because we're seeing so many temples I put on a long maxi dress and bring a scarf to cover myself. I later found out this doesn't work for The Grand Palace so I bought a light white shirt outside for $100 baht.
We started our day by loading up on breakfast at the buffet in our hotel before being picked up at 9am. Our tour guide Jackie arrives with a driver and an air conditioned van for our 3 hour tour.
We began at Wat Traimit also known as the Golden Buddha temple. It's magnificent and Jackie tells us about it's past. It sat around for nearly 200 years outside covered in stacco, until time and weather finally revealed the solid gold Buddha. This is the worlds largest golden Buddha weighting in at 5.5 tons.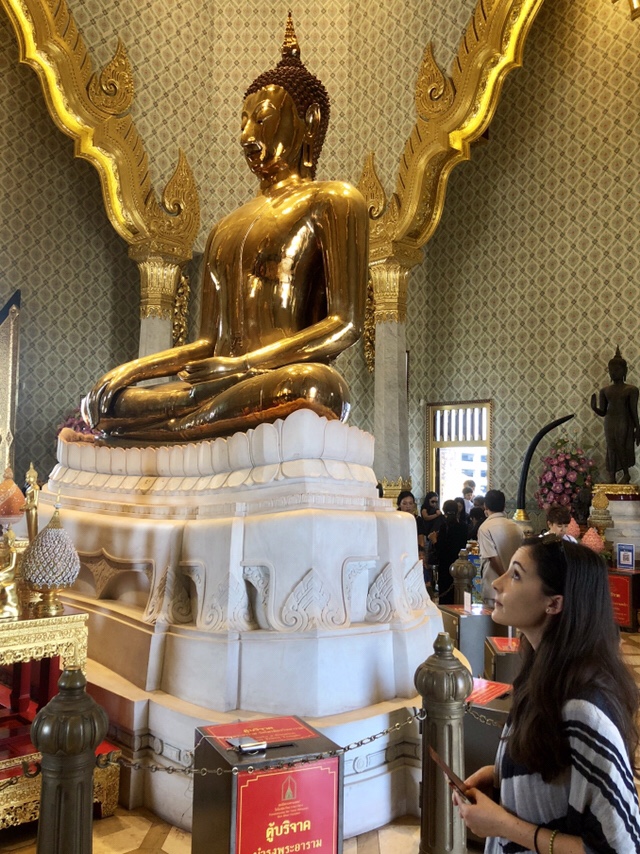 We moved on to Wat Benchamabophit, which has beautiful grounds and a Buddha museum with many different forms of Buddha.
We asked to be left by Grand Palace instead of being dropped off at our hotel after Wat Pho. Jackie suggested we see Grand Palace first and walk to Wat Pho. So that's exactly what we did. Grand Palace is exactly as it's name implies, Grand. The temples and buildings are decorated with colorful gems native to Thailand and a lot of gold. The Emerald Buddha is also housed here.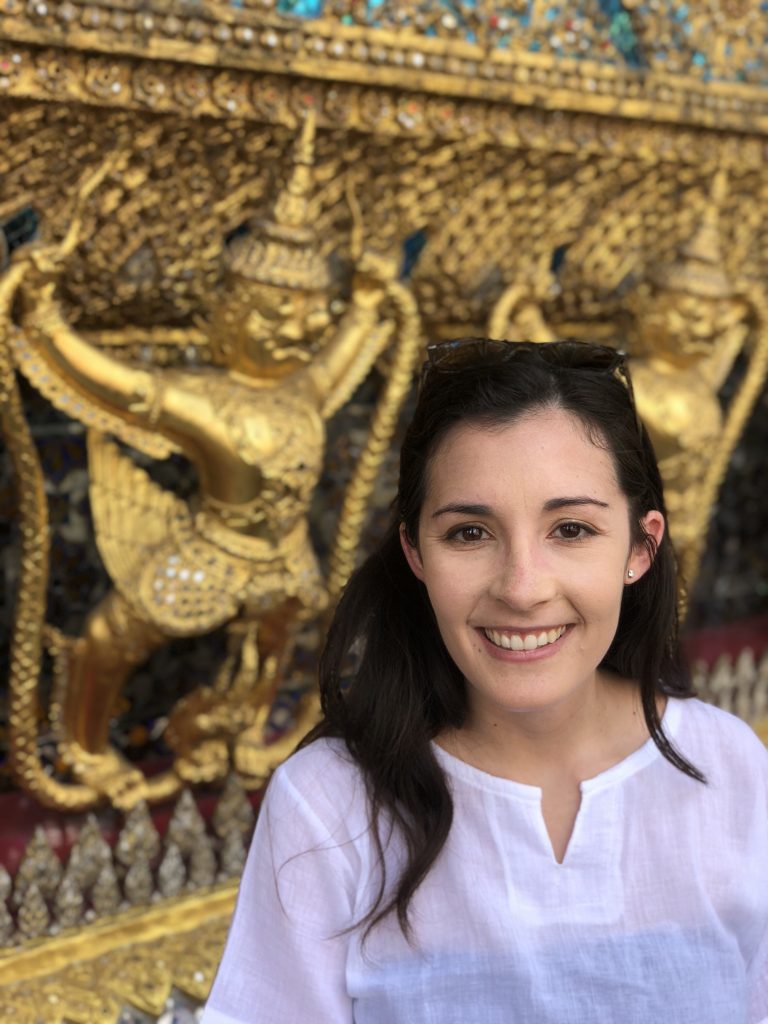 After the Grand Palace we walked over to Wat Pho to see the famous reclining gold Buddha. It is massive, it hardly fits in it's housing, and it's truly stunning. It's been our favorite temple so far.
By this time we're hungry and find a spot on the Google Trips app called The Deck that sits on the water and has a view of our last stop Wat Arun. We ask for what traditional Thai food the waiter recommends and we end up with a delicious Pad Thai and Papaya Salad to accompany the view.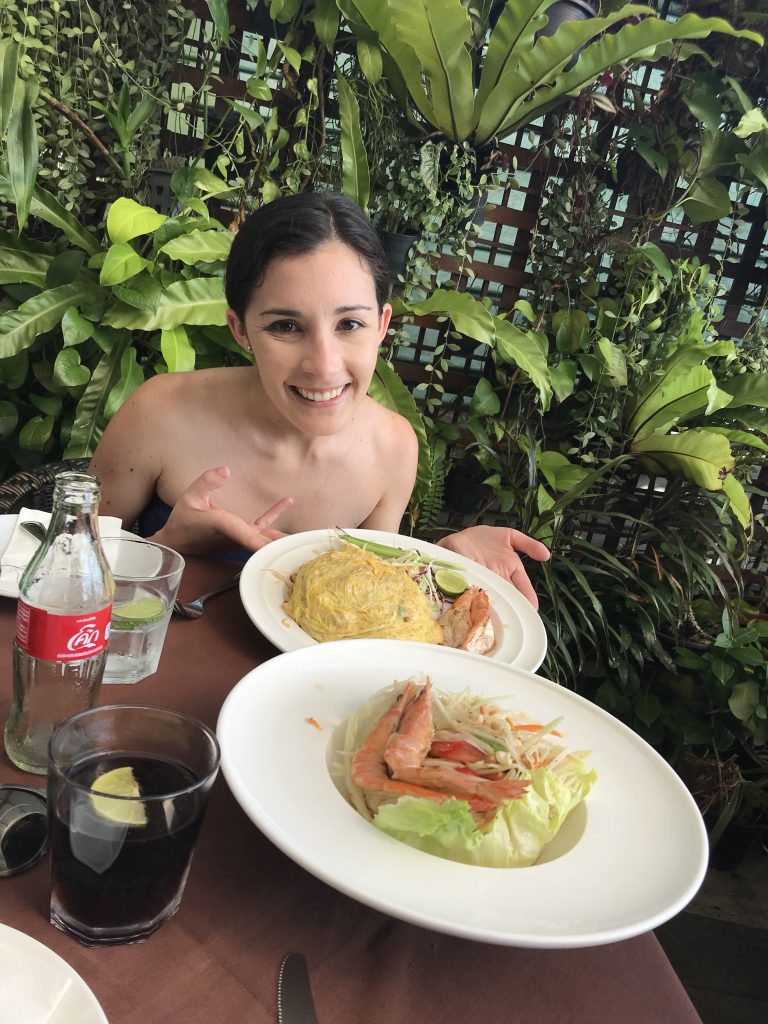 After lunch we took the ferry across that's only 4 Baht per person. After a walk around Wat Arun we took the tourist water bus back towards our hotel. We ended the long hot day in the hotel pool before calling it a night.
Day 3:
We're off to Ayutthaya and the Summer Palace today on a tour I booked thru Viator. We get on a bus and meet our guide Donna, who reminds us of a Thai Dora the Explorer and she only speaks in third person. She's hilarious, on our way there she tells us that her papa says "Donna like happy Buddha because Donna always smiling and Donna fat," she laughs her contagious laugh. We begin at the Summer Palace which is pretty, but not super time consuming.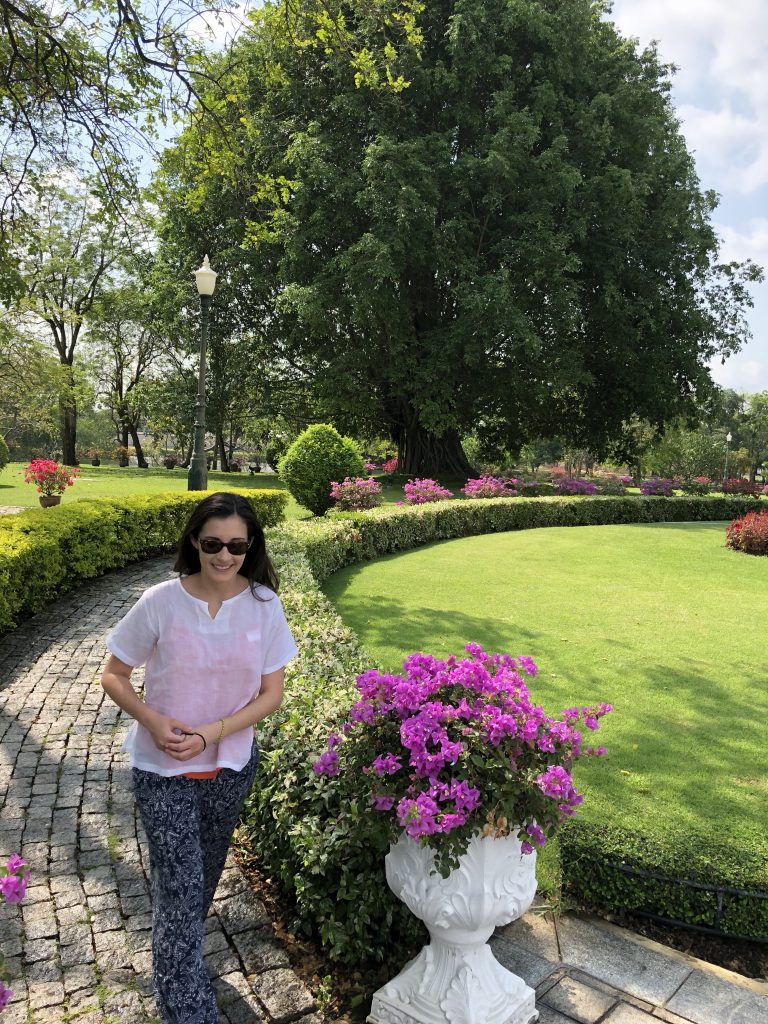 We continued on to the ruins of Ayutthaya where you can see the Buddha head that was hidden underground to protect it when the Burmese had invaded and cut off all the heads of the Buddha statues. The roots of the tree had brought the Buddha's head up. You're asked to sit for photos so that your own head is not higher than Buddha's.
The brick of the old capital have shifted from earthquakes and like I said before the statues of Buddha are all headless.
After, we stopped at a small temple where we got a blessing from a monk with a kind face who placed a hand made bracelet on each of us after hitting us with sticks dipped in holy water. Donna also sprinkled us with holy water from the temple and ask Buddha for happiness for all of us.
We made a quick last stop at an outdoor reclining Buddha and then drove to a pier where we boarded the river cruise. It included a Thai buffet and a relaxing cruise back to Bangkok. Donna encouraged us "you eat a lot like Donna, try everything, if you like it eat, if you don't, don't eat."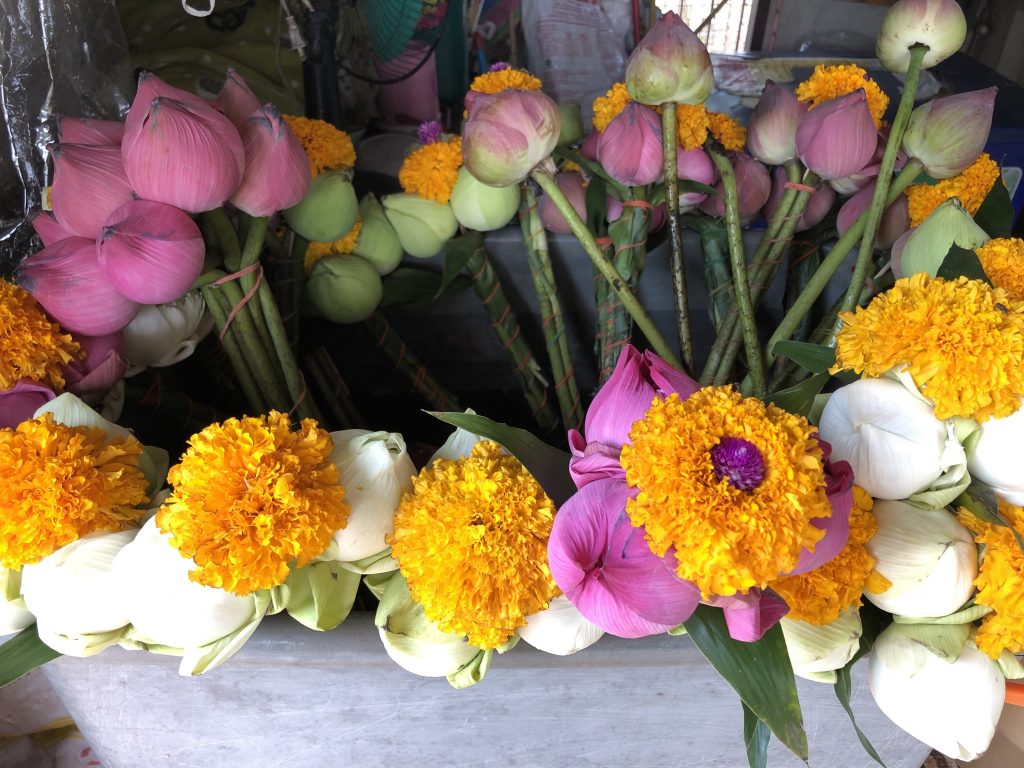 We ended our last night in Bangkok by going up to the world's tallest rooftop bar, which you might recognize from the Hangover 2, the Sky Bar at State Towers. It's up on the 64th floor, the views were incredible, but if I'm being honest I couldn't get too close to the glass edge without feeling Vertigo. We ordered a Tropical Sunrise cocktail which was a bit strong for me at first, but once it watered down I enjoyed it. Regardless of the Vertigo and $28USD drink it was a great way to say farewell to Bangkok. Next stop: Chiang Mai.