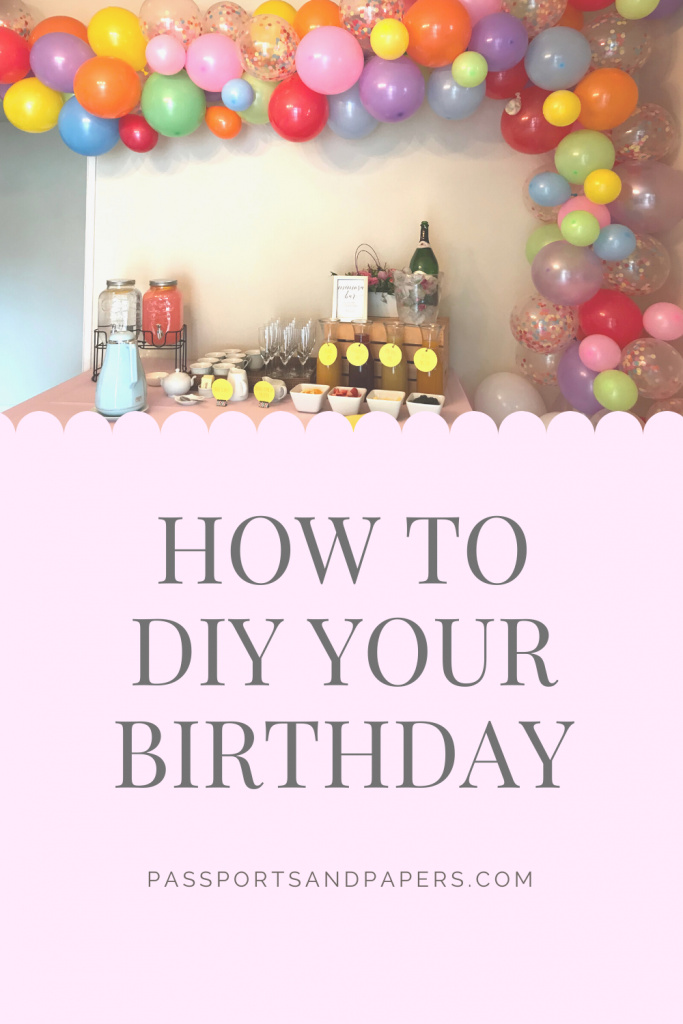 This year I used my birthday as an excuse to host a cute brunch party. It came out just as dreamy as I had hoped for as I scrolled thru Pinterest for inspiration and was surprisingly easy to plan. I thought I would share some tips of how I threw this shindig together and the pretty decor you're probably wondering about.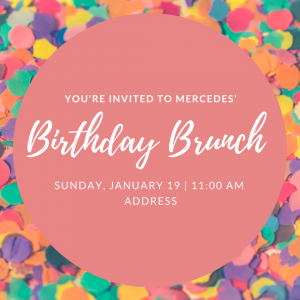 First things first, I made a guests list and set a date. I created a fun invite I could share with my friends in Canva. If you don't have PhotoShop or just want a quick and easy place to make graphics I highly recommend Canva!
Next, I thought thru the menu, considering any allergies or food preferences, obviously I didn't want to poison any guests. I knew I wanted to have a mimosa bar, because what's a birthday brunch without some booze amirite? And then I tapped into my moms favorite recipes. However, I should have actually prepped the food sooner because I did it late the night before and didn't think to double all the casseroles like I should have. So I felt like I was a little short there, but lesson learned.
Brunch Menu:
Soy Chorizo Casserole (I modified this recipe for soy and didn't include any peppers so I subbed that with other veggies i.e. tomatoes, spinach, more Mexican cheese mix)
French Toast Casserole
Lipton Onion Potatoes (This is a fave and all my mom does is put potatoes in a bag with olive oil, butter, and a packet of Lipton Onion Soup mix and bam!)
Bagels
Fruit
Glazed Donuts
Cupcakes
Coffee
Creamer and Half and Half
Champagne
Fruits for adding to drinks
Peach Nectar Juice
Pineapple Juice
Orange Juice
Cranberry Juice
Last, but not least was the theme and decor. I wanted a fun sprinkles theme and wanted to center the decor around my mimosa bubbly bar. Luckily my mom and aunt own a lot of party supplies. So I was able to use pink linens my mom owns and yellow ones my aunt had. My aunt also owns enough chargers, plates, silverware, and real napkins for a party of 150 people. So I was more than covered.
Sprinkle Flower Arrangements
DO NOT JUST PUT SPRINKLES IN A WATER VASE! You have to put a vase within a vase. I went to a local Dollar Tree to get vases that fit into each other. Then you make a funnel to pour the sprinkles into the outer vase. It's actually super simple, but it does take a lot of sprinkles which I ordered on Amazon.
I went with a mix of colorful carnations from The Original LA Flower Mart. I'm typically not a fan of carnations even though they are my birthday flower but these were stunning!
Balloon Garland
The big decor piece was the balloon arch which you've probably seen swarming your Instagram and Pinterest feeds. I looked into how much it costs to get these professionally done and it can be upwards of $300 or more! Uh, no. Luckily, I come from a long line of DIYers and my mom was up for the task of doing it ourselves. Honestly, she did most of it because I'm not good at tying balloons. I bought this kit from Amazon and added a pack of these confetti balloons. When buying a kit look for ones that give you different size balloons. The different sizes is what adds the dimension. The balloon arch costs about $30 and about 2 and half hours to put together, give or take.
Flower Ice Cube
Another easy touch to the party was adding flower ice tubes to the champagne bucket. All you need to do is put flowers into an ice tray and then fill them with half the amount of water. Let them freeze, then top with more water and freeze again so that the flower is in the middle instead of floating to the top.
Cricut Labels
Using my handy Cricut I cut circles and used the writing feature to make labels for the food and juices of the mimosa bar. A lot of people ask me if I like the Cricut machine, I love it! I just wish I had more time to use it. I made makeshift label stands using binder clips and washi tape and removed the silver part.
Finishing touches
I got lucky that my winter January birthday offered a warm and sunny Sunday morning to enjoy brunch outside. For the finishing touches we set up tables as one long kings table and I rented white wood party chairs. We bought colorful lanterns in DTLA to spread above the tables. And of course Havana was there to greet guests! I'm so grateful to all my friends and family for helping out and celebrating with me!
What's your best hosting tip or trick?