We love to travel and have been to five countries in the last four years while being full-time employees. But, we haven't taken advantage of what's right in our backyards. Sometimes we take for granted that we're SoCal natives and look elsewhere on the map to satisfy our wanderlust.
Planning a road trip seems daunting at first, but we just needed to know what we wanted to see and where we wanted to stay. And of course, where we wanted to eat. We needed a break from the record high temperatures of this Los Angeles summer so we landed on Monterey. Here's exactly what I wrote in my notebook when planning this trip:
What do we want to see?
Monterey
Big Sur's scenic route
Hearst's Castle
Solvang
Beach
Nature
Where to stop was obviously the most important part of the trip. Planning the route simply took looking at a map and timing the drive. We planned stops in Solvang, Morro Bay, and then San Simeon for day one.
The plan for day two was to start at Heart's Castle (it's highly recommended to book in advance) and continue up the coast to Monterey. Stopping at multiple look outs to enjoy the coastal views and hike in Big Sur and Carmel.
Where should we stay?
We wanted to break up the drive and knew Hearst's Castle would be on the agenda Saturday morning so we stayed in San Simeon. Hotels are limited, but we landed on the Silver Surf Motel which was convenient, clean, and well priced. It was also dog-friendly for an additional $15! Our dog Havana didn't end up joining us because she wasn't allowed in Hearst's Castle, but if you're not visiting Hearst's Castle this is a dog-friendly trip.
We wanted to stay in Monterey for the next two nights, but Monterey is SO EXPENSIVE. For example, a Holiday Inn Express was in the $300-$400 range. We ended up at a Motel 6 in Marina that was 20 minutes from town. I'm not a Motel 6 kind of person, I had actually never stayed at one, but it was fine. It was modern and clean and the cheapest thing we could find at $155 a night (not including tax…see I told you EXPENSIVE). Also Motel 6 is dog-friendly at no additional cost.
Where to eat?
I almost always read where I should eat and make a list on my phone, which I did. My list included:
Jalama Burger Store and Grill (Lampoc near Santa Barbra)
Nepenthe (Big Sur)
Big Sur Bakery (Big Sur)
Acme Coffee (Monterey)
Creama (Monterey)
How many of these places did we actually go to? Just one: Creama and it was delicious! Here's what else we ate that we recommend:
Big Sur Deli
The Fish Hopper
What to pack?
It was a little chilly up the coast, but hot on the drive back. Keep in mind we traveled at the end of July.
Packable jacket (because it's chilly)
Scarf
Beanie (I didn't bring one, but should have for the windy evenings)
2 pairs of yoga pants
1 pair of jeans
Tshirts
Sweater
Flip flops
Sneakers
Lots of snacks for the road!
Refillable water bottles
Time to hit the road
Once we finally had the trip all planned out it was time to hit the road! We left by 1p.m. on a Friday and made our way to our first stop: Solvang!
Solvang
I grew up in Southern California and had never made a trip to Solvang despite passing it many times. This tiny Danish town looks like someone shook it straight out of a fairy tale. We didn't need much time here, a stroll around the town, dinner, and some chocolates from Ingeborg's Danish chocolates was enough.
I've heard it's also nice to be here in the morning and have Danish pancakes for breakfast, we went to dinner at Bit O'Denmark. We shared a combo plate that included the traditional meatball, sausage, mashed potatoes, pickled cucumber and red cabbage. It was nothing to write home about, or maybe we just aren't into Danish food. We continued to our next stop San Simeon.
San Simeon
Hearst's Castle
As you climb the winding 5 mile road up to the castle it is narrated with whimsical music of the 1930s as Alex Trebek's voice transports you back to the time of Mr.Hearst. The narration gives a brief history of the Hearst family and paints a picture of what the ground where like before William Hearst built "La Cuesta Encantada" (the Enchanted Hill for you non-Spanish speakers).
Once we were dropped off at the top we met our host Michael for the Grand Rooms tour. Michael was a great host, he told the story in a captivating way and cracked jokes about how "fun it is to be rich." If it's possible to request him I would because a tour is only as good as it's guide. His animated voice and passion for Hearst's Castle was appreciated.
I should note, it's really hot up there unlike the cool breeze down by the coast so dress appropriately and bring water. As someone that studied journalism which included a lot of history on Hearst I'm glad I finally got to see this place. However, I wish we were able to see everything, but as a State Park they break it up into multiple tours. To handle crowds and make more money, I'm assuming.

Elephant Seals
You can find these big guys just 5-10 minutes down from Hearst's Castle. They are easy to find because there are signs on the highway that guide you to the stop. This is a brief 10 minute stop, tops.
Pacific Coast Highway
PCH is a straight shot up to Monterey, but be warned that it's a drive with twist, turns, and a lot of fog. It's worth it for the views though!
Originally I had marked hikes to do off PCH, but not all of them were easy to find. Except McWay Falls, it's not much of a hike, but it is a sight to see. A thin 80-foot waterfall falls into the crystal clear ocean. There doesn't seem to beach access unfortunately, but that's probably why it's so clean and pretty.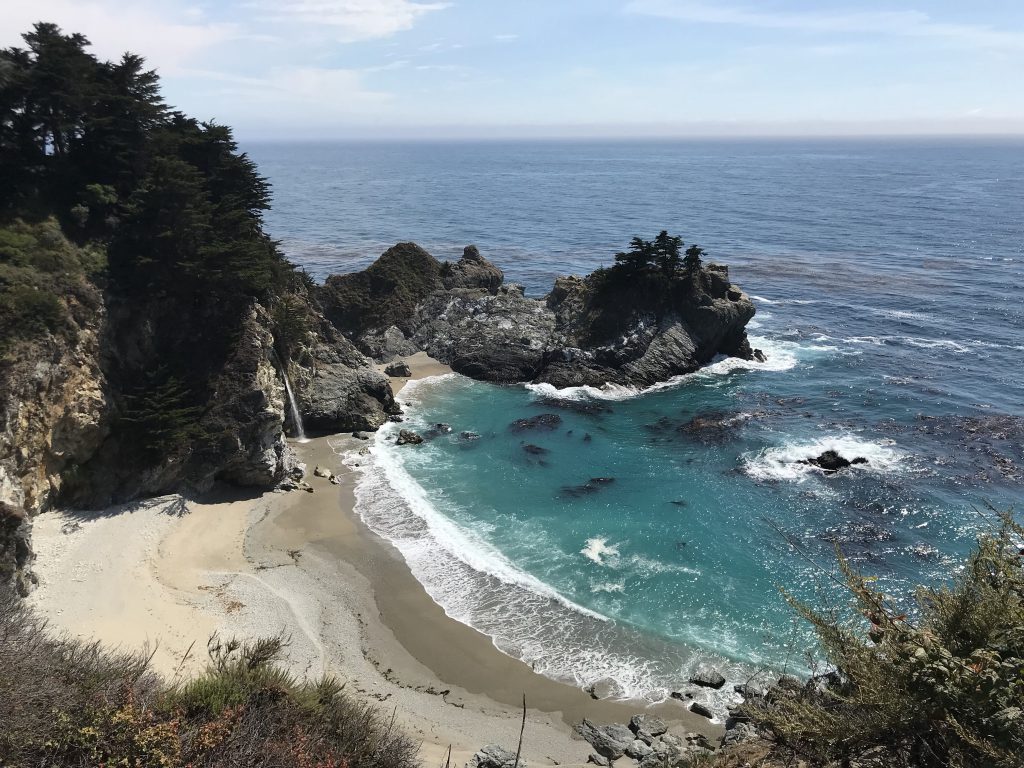 We stopped whenever we saw at lot of cars parked or an interesting trail. Before Pheiffer Beach there are a few places to eat. Originally I wanted to try the Big Sur Bakery but it was closed when we got there so we picked up an Italian sub and mac and cheese from the Big Sur Deli, it didn't look like anything special, but OH MY GOODNESS, it was delicious!
We planned on taking our lunch to Pheiffer Beach, but the lot was full for the day and there was no where else to park so we had to skip Phiffer. The park ranger recommended getting there by 10a.m. on weekends, FYI.
We drove further down PCH and stopped along the way to hike. I can't even tell you where we were, we just pulled over when we saw people hiking big hills that had a clear trail. It only took 15 minutes from the bottom of the hill to reach the top. It was extremely windy, but the view made the wind irrelevant and brought over a sense of peacefulness. 
After crossing the Bixby Bridge, which is featured in HBO's Big Little Lies (for my fellow fans), you can pull over for a better view. It's nice to look at it after crossing because you realize it's really high up there.
Monterey
On the first evening in Monterey we visited Cannery Row. This tourist street includes restaurants, souvenir shops, and the Monterey aquarium. We skipped the aquarium, but walk on the docks and you'll see sea otters and different species of seals in their natural habitat.
It's chilly in Monterey, so we warmed up with a clam chowder bread bowl to-go from The Fish Hopper and sat on a bench overlooking the beach.
That was a wrap on day one in Monterey.
Day Two in Monterey
If you know me at all you know I love food, especially brunch. I did my research on great brunch in Monterey and wound up at Creama in the Pacific Grove neighborhood. This charming restaurant is housed in a craftsman style building that looks like it was someone's home at one point. There was a 30 minute wait so we grabbed to-go vanilla lattes while we walked the little western looking street.
Once seated we ordered a crab cake and avocado eggs benedict to share. Sharing was a good idea because it was plenty of food. The benedict with a perfectly cooked crab cake, farm fresh poached egg, lemony hollandaise sauce, and breakfast potatoes was delightful. 
After Creama you can take a short walk over to Lover's Point. Had it not been cold and windy we would have kayaked here, but since it was chilly we opted to walk around. There's a ton of squirrels here for whatever reason, our dog would have loved it.
We then went to start the 17-mile drive. We started at the Pacific Grove gate, which we recommend because we were then on the right side of the road closest to the coast. Note that entering this gated community cost $10.25. They will give you a map or you can download the Pebble Beach app that will narrate the drive and stops for you. 
After the drive we parked by the Fisherman's Warf and walked to where they film the coffee shop scenes of Big Little Lies, it's not actually a coffee shop.
We wanted to eat seafood, but desired a more authentic experience than Fisherman's Warf. We stumbled upon Monterey's Fish House which had a wait before it was even open. When in line we found that it had actually been on The Food Network so we knew we found a good spot. We ordered half an order of calamari and shared the Sicilian Holiday Pasta (they split the bowls for us and it was still a lot of food.) We really wanted the Tiramisu, but they were out! We were bummed, but we got the mud pie to satisfy our sweet tooth. 
We walked off the meal with a walk on the beach across the street and said goodnight to Monterey before hitting the road the next morning. We drove back the boring way thru the 5 freeway, dull, but it got us home.
If you have any questions on our trip please comment below. I hope you're inspired to explore the open road, happy travels!