"Why Chicago?" people would ask. My response was "Why not!" A city with great architecture, food, comedy, and shopping…count me in. We jumped on a red eye flight on a Friday in September and landed in Chicago very early Saturday.
Day 1
We were up hours before we usually are and we were hungry so our Lyft driver suggested breakfast at Yolk. We could walk to the Streeterville location from our hotel. A warm coffee in the morning wind and an order of the Very Berry French Toast hit the spot.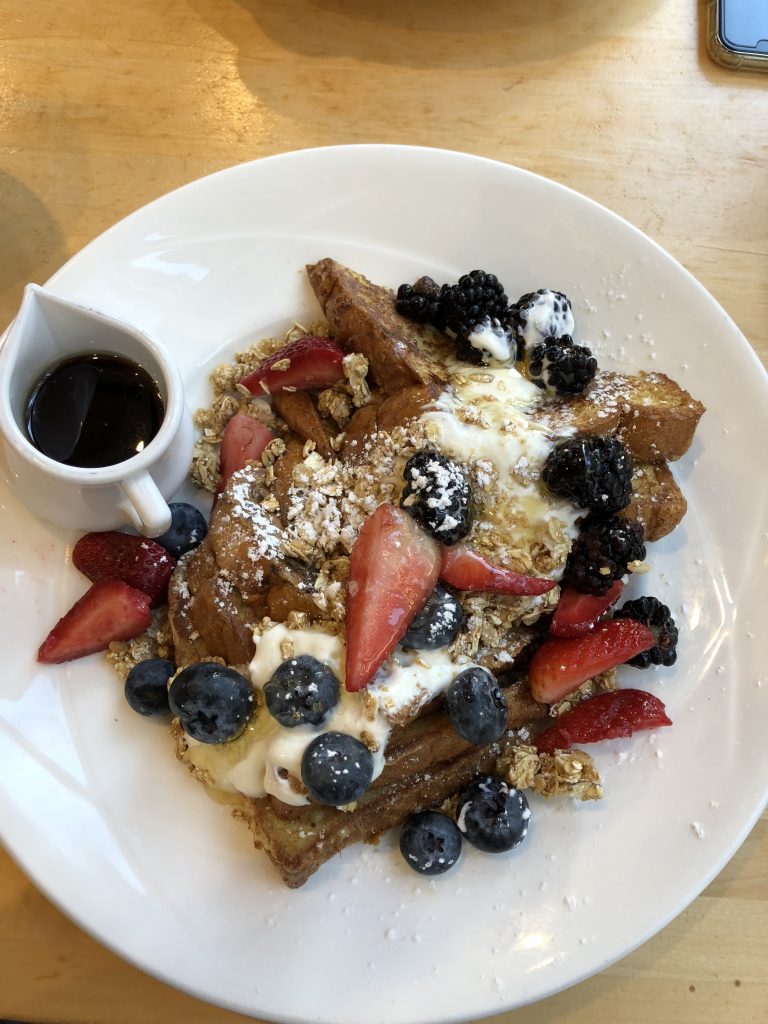 It was still so early that the streets were quiet with only some morning runners out, our hotel gave us early check in and we made the mistake of taking a nap. We were tired, but I wish I would have powered thru to get good photos while the everything was still empty.
We started walking down the Magnificent Mile to Millennium Park around 10a.m. local Chicago time. The park is free and I was so impressed with the city's overall landscaping, it's beautiful. We walked thru Millennium Park, Grant Park, stopped at Buckingham Fountain, and people watched by Crown Fountain. Crown is a really fun piece of art, the faces change and at some points it's made to look like the people are spitting out water.
While walking along the lake and then decided to book an architectural river cruise, it was highly recommended to me by friends who have visited and even friends who were from Chicago. I booked via Viator which is always my go-to. The river cruise is a great way to see the city from a different perspective and take a break from walking. After the tour we walked from Navy Pier back to our hotel to get ready for The Second City and dinner.
Though we were starving, we decided to have dinner after the show since we were cutting it close on time. We saw the Gaslight District show, just buy tickets and thank me later.
I mentioned earlier we were starving and waited until after the show, which resulted in us eating an entire arugula pizza just around the corner at Mama Milano on Wells. The staff was incredibly friendly even though they were only serving us. They looked like they were closing, but when we walked to the door they happily welcomed us in. With fully bellies and happy hearts we called it a night.
Day 2
I woke up and needed coffee so Intelligentsia was priority number one. There is actually an Intelligentsia coffee near me here in Los Angeles, but I haven't been. Now I plan to go.
After getting my wakeup dose we walked to Willis Tower to visit the SkyDeck, but with the long line the staff suggested coming at night for the city views. We walked more to see the Greek town and decided all the walking made us hungry, so we searched for the best Chicago hot dogs that were not too far. We landed at Fatso's. Ladies and Gents, you are what you eat and after eating at Fatso's we needed a long walk. We took a quick Uber to Wrigley Field and then walked for hours from Wrigley back to our hotel on Mag Mile along the lakeside. With the amazing weather we enjoyed the stroll, people watching, and sitting by the lake which is so large it looks like an ocean, especially to us California beach bums.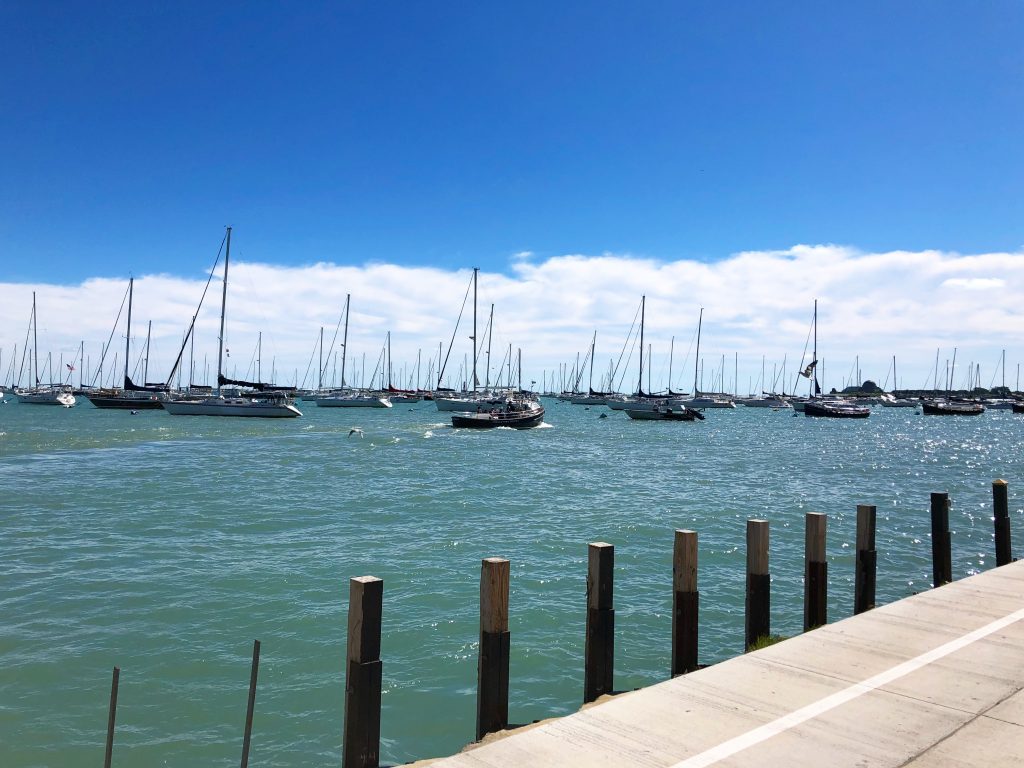 After resting our feet a bit we made it over to the SkyDeck 103 floors up the Willis Tower. The view was amazing, I was so excited to take some cool photos on the glass balcony. Until I stepped on the glass balcony. I froze up, was on it for long enough to get 3 photos and jumped right off. Leaving Henri to be my model as he sat over the Chicago skyline.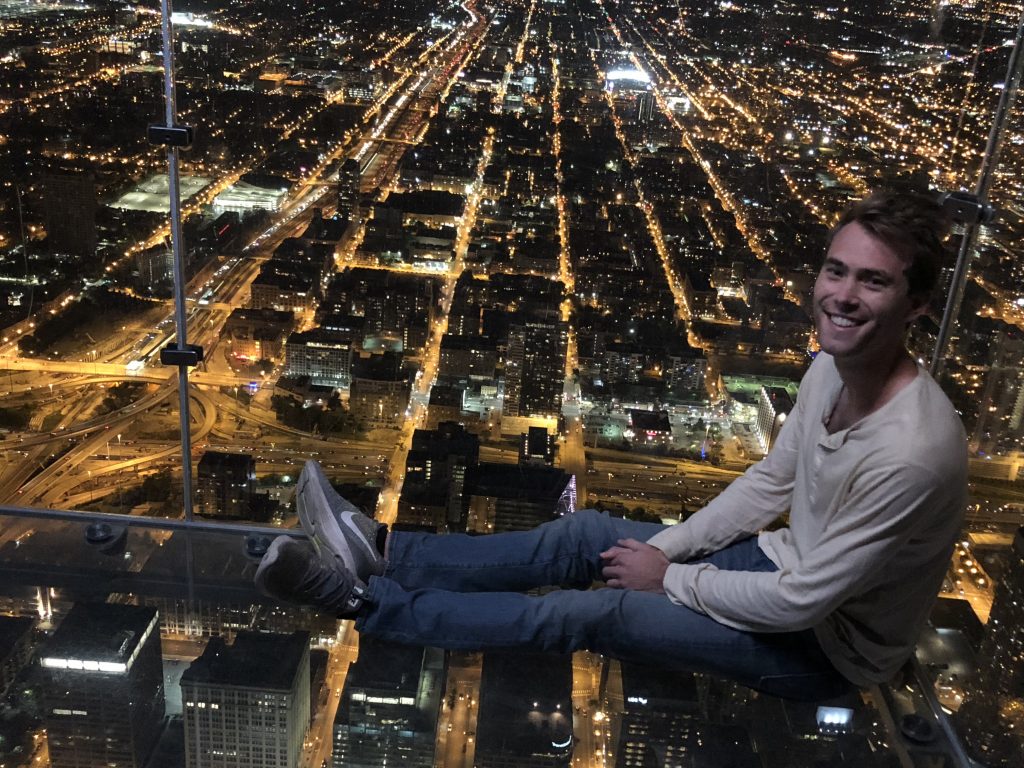 The fear sparked an appetite and we thought might as well try Lou Malanti's since the hotel, multiple people, and publications suggested it for a Chicago style pizza. We ordered "The Lou" which was a veggie styled pizza, an Italian salad, and we had a coupon for a free cookie pie for dessert so we thought why not. To quote Henri, "worth it."
Day 3
Did we have time to make more of Day 3? Yes, but rest was needed and it was the coldest of the 3 days with some rain throughout the day. We slept in, packed our bags, and checked out before getting brunch at WildBerry Pancakes, surprisingly we got crepes instead. They were amazing, I think this is like the IHOP of Illinois AND they serve breakfast all day AND they serve Intelligentsia coffee so it was a win-win. Also the location we visited is just across from Millennium Park.
On the walk back towards our hotel were our bags were we stopped at the NBC tower because I work for NBC Universal as my full-time job and needed a photo of the 30's styled building obviously. As a journalism major in college I had to go into the lobby of the Chicago Tribune building. It's iconic abd has the first amendment engraved in the walls.
We also took this time to visit some of the stores on the Mag Mile and soak in the magnificent architecture. I should note to my fellow shoppers, the Nike store and Victoria Secret's Pink are both worth a visit since they carry Chicago merchandise.
We stopped to see an old coworker before hoping on the blue line back to Chicago O'Hare airport and it was back home to California.
What I recommend booking
Warwick Allerton Hotel, click here.
Architecture River Cruise, click here.
SkyDeck Chicago, click here.
Other Viator Chicago Activities 
Tell me your thoughts on Chicago or where you plan on visiting on your next trip to The Windy City in the comments below!