When I pictured Greece in my head I was picturing Santorini. And it totally lived up to my imagination. It's just as picturesque as it is on Instagram and the landscape of the Caldera is like nothing I've seen before. It you're going to Greece, go to Santorini, it's worth the hype.
Day 1 — The Hike from Fira to Oia
We boarded a small propeller plane in Athens and landed around 6:45 a.m. in Santorini. We knew we wanted to start the day with the hike from Fira to Oia. After dropping our bags off at our hotel, changing our clothes, and having breakfast it was about 9 a.m.
What an amazing hike! It takes about three hours one way, and it's really only necessary to do it one way. Then you can take the bus back. But it's not all easy, so come prepared. We had sunblock handy, protein bars, and plenty of water.
We started in Fira (or Thira) because we were staying there. The start of the hike in Fira takes you winding up and down through the small alleys of Santorini. Once exiting Fira you approach Imerovigli and Skaros Rock. After this area there's not much shade so bring a hat and if you see an infinity pool you can soak your hat in, do it!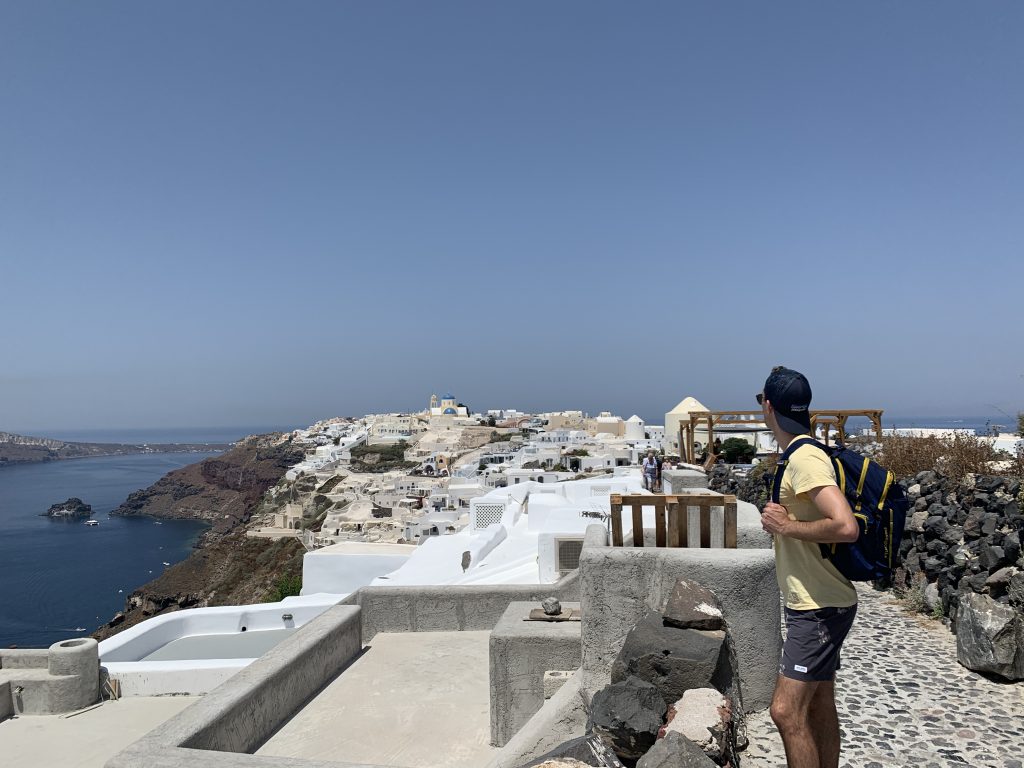 The large part of this hike that's fully exposed to the sun gets a little strenuous. I was suffering a bit and I like to think I exercise regularly, but I made it through. Not to mention we had been up since 4 a.m. because of our flight. I recommend getting a good nights sleep and if you can start hiking earlier, do so.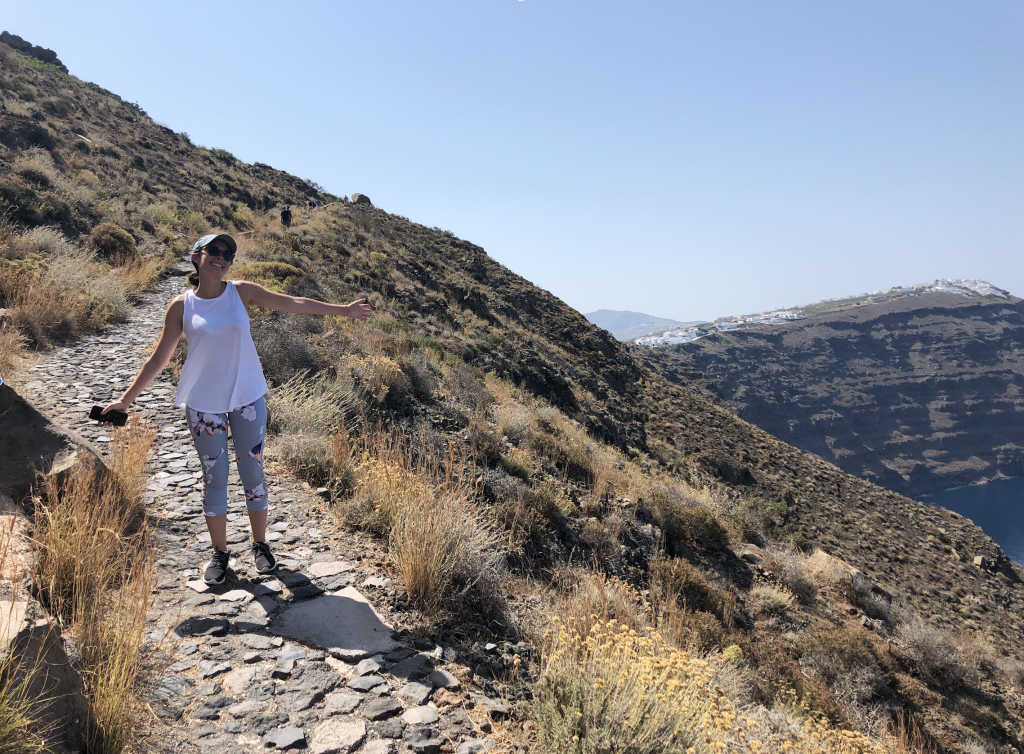 Once in Oia we took a break to have lunch and rest. We walked around a bit and saw the famous Atlantis Books bookstore and the blue roofed church. We had originally planned to walk down to Amoudi Bay to go swimming. However, I was exhausted probably due to the lack of sleep and long hike. When we thought about all the steps we had to take back up, we decided to go back to our hotel to relax and swim in the pool there. *After seeing Amoudi Bay on the third day I wish I would have sucked it up and walked down to swim after hiking, but learn from my mistakes.
That evening I was craving a Falafel and a quick TripAdvisor search recommended a vegetarian spot called FalafelLAND. The place had a cute vibe, was inexpensive, and really good. Also, it was just around the corner from our hotel. After, we set out to watch the sunset over the caldera. We couldn't resist having some gelato to eat as we watched our first sunset in Santorini.
Day 2 — Kamari Beach
We were scheduled to do our boat tour the second day, but asked to push it back due to the winds. Instead we took a bus to Kamari beach and spent the day there. We arrived early to beat the crowds, not that it mattered because it didn't seem to get overly crowded.
Kamari is what is referred to as an "organized beach", a beach with lounge chairs and service on the sand. (Note: This is a rock beach, not a sand beach.) We walked to see where we wanted to eat breakfast and noticed most would give a set of lounge chairs with the purchase of meals. So we chose to eat at Angelato where we enjoyed a yogurt and croque madame as we overlooked the ocean. I also had an amazing peach juice here, Greeks make amazing peach juice!
We took our spot on the beach where we swam, read, napped, and enjoyed the day. We also ordered a greek salad and mini salmon sandwiches for lunch on the beach. It must have been around 4 or 5 when we left Kamari Beach to return to our hotel and get ready for dinner.
We wanted seafood and kept seeing Lombranos on different where to eat lists. It was fun to see the Old Port and sit by oceanside for sunset. The walk down was an experience because this is an area were taking a mule is an option. We walked, but herds of mules walk up and down and their masters command. And since they have it memorized they get awfully close to you. *Please watch video for reference.
We made a reservation for sunset, thinking Lombranos would be full, but we were the only ones there the entire dinner! We tried the Santorini dish Fava, which is a split pea dip and shared a shrimp pasta dish, oh and some wine of course. It was a good dinner and a nice way to see the Old Port. I am sure there are so many places to eat in Santorini, but we only had 3 nights.
After dinner, we took the cable cars up. It's 6 euros per person, which is expensive compared to the 1 euro buses, but it's a fun way to go up from the old port and see the view.
We walked around taking photos and soaking in the sights before calling it a night.
Day 3 — Sailing Tour and Oia Sunset
We spent the majority of the day on a Viator Cruise. We did this Sailing Catamaran Cruise in Santorini with BBQ and Drinks. It included transportation that picked us up and returned us to our hotel, as well as lunch on board. The boat takes off from Amoudi Bay, which I am glad we got to see because it's beautiful.
The sailboat was large, it probably had about 30 people on it. Our first stop was at the Hot Springs. I was disappointed because it went to the Hot Springs very quickly and it didn't take us very deep into the springs. We were there for maybe 15 minutes because many people jumped in and got out immediately.
Then we stopped for swimming and snorkeling for 30 minutes near the white beach. After, we swam by the red beach and had lunch at this point. After the last bit of swimming, the tour took us past Thirisa, which again, I was under the impression we were getting off but we didn't. Nonetheless, it was a day well spent.
Being that it was our last night in Santorini we knew we wanted to spend it watching the sunset in Oia. We took the bus to Oia and found a rooftop spot for dinner. Which had great tomato fritters and risotto.
We walked the streets of Oia taking in the hues the sunset created against the white dome shaped buildings. It was the best day to say goodbye to Santorini.
Day 4 — Ferry to Naxos
So all we did the last morning was go to the ferry port to head to Naxos, and we ate at the restaurant at the very end so we could watch and listen for our boat. We booked our ferries from FerryHopper and I'm so glad that we did because the ferries are a HOT MESS.
From Fira's bus center you take a bus down the winding roads to the port. There is where things get crazy. There's long lines but there's no point in waiting for them. Pay attention to when your boat arrives and be ready to charge. It's a ruthless system, we saw one guy miss his boat because he said he was still in line, but that line means nothing! The man who worked the port said "don't wait in line, when you see your boat, you come." There's cars, motorcycles, people and all their luggage loading these massive ferry boats. It's nothing like the one from Orange County to Catalina for my California people. We spent a little more to take a speed ferry, called World Champion, which in my opinion was worth it. You enter the garage, but once upstairs it looks like a cruise ship.
Before we knew it, we were in Naxos. But more on that in the next post all on Naxos.
Leave your comments and questions below! I hope you get the chance to see a Santorini sunset.