The first leg of our 10 nights in Greece started in none other than the capital city of Athens.
Day One
We flew from LAX to Athens, with a quick layover in Paris on AirFrance. After a long travel day we landed in a very hot Athens. Europe had been having unusually warm weather. Most people told us not to bother with Athens or at least not to be there long. So, we did two nights to have time to see the Acropolis and surrounding areas. Two days was more than enough time in the heat.
We landed at 1:30p.m. and arranged for our AirBNB to pick us up since they offered that service. However, our AirBNB was not great. But, we did only pay $30 a night, you get what you pay for.
We wanted to beat the jet lag as best we could, so we decided to freshen up and push ourselves to explore. So we grabbed lunch across from our AirBNB to have a greek salad and a Gyro. We realized we were very close to the Acropolis and it was an easy walking city. We walked thru the charming narrow streets to Syntagma Square. And then couldn't take much more so we called it a night pretty early.
Day Two
Henri and I woke up at 5:30 a.m. due to jet lagged and discomfort. We planned our day and were out the door by 6:45 a.m. Which for those of you that know me, is very unusual! I am a night person, except when I'm on vacation. We also wanted to beat the crowds and the heat!
We started by finding the highest rated coffee shop in Athens on TripAdvisor called Coffee Joint to enjoy breakfast and try a Frappe. The hospitality was amazing! The woman behind the pastry counter was incredibly friendly, she was such a warm welcome to Greece! She stepped from behind the counter to show us what each item was and the list of what she could make in the kitchen. She also brought us a traditional round Greek bread, called Koulouri to have with our omelet and hand pie. The Frappe was the best one in Greece!
After, we headed to the Acropolis. We were one of the first through the gates and I'm glad we were! By the time we were done, nearly two and a half hours later, the tour buses and their huge crowds had arrived. So plan to visit at opening and buy your tickets online. The staff told us to go to the front of the line, which felt a little odd because there isn't a separate line you just cut in front of everyone. The other benefit of coming at opening is because there are less tourists your photos are so much better.
Also, for those of you that still have your college ID, take it to Europe to get discounts on entries to popular sites and museums, including the Acropolis. And before you tell me this is wrong, I paid a lot of money to go to college! The few discounts I can get is nothing compared to the debt I incurred. Also having a student ID gave us half price to the Acropolis Museum which we visited later that day.
Anyways, let's get back on track, after the Acropolis we walked towards Monastiraki Square. There's lots of tourist shops and vendors. My favorite, was getting fresh peach juice! We walked a little further to see the Athens Central Market, called Varvakeios. I love seeing these large outdoor markets with fresh fish, meats, and veggies. We did this in Thailand also. I know it might not always smell the best, but it's fun to see locals haggle and collect their goods.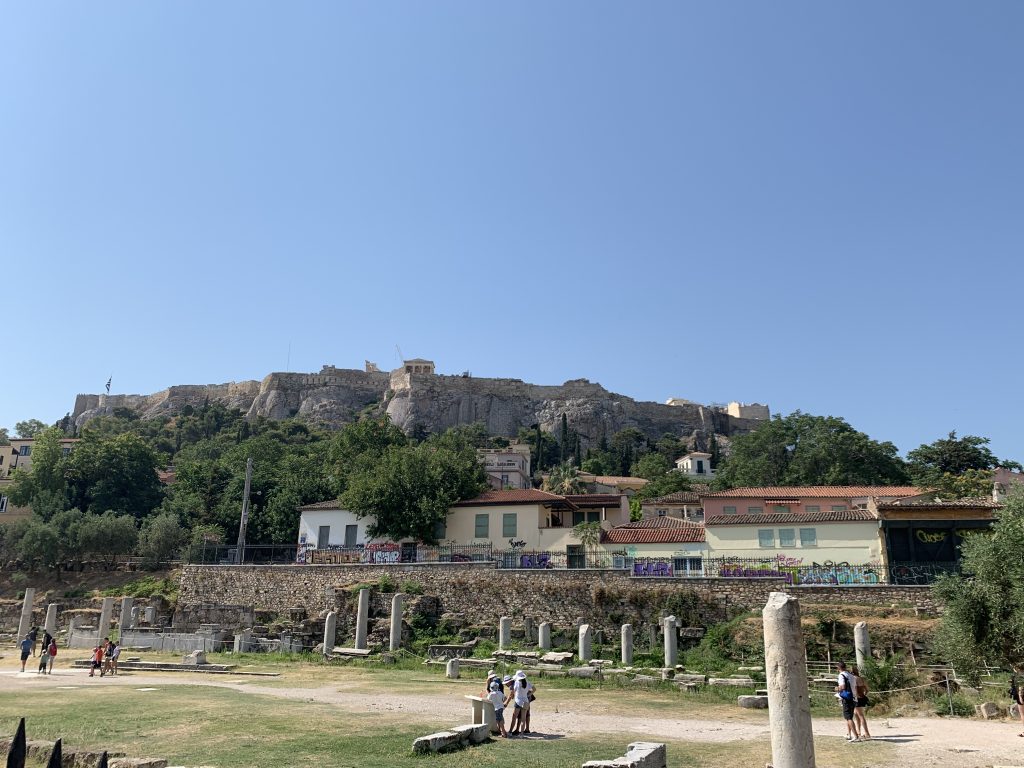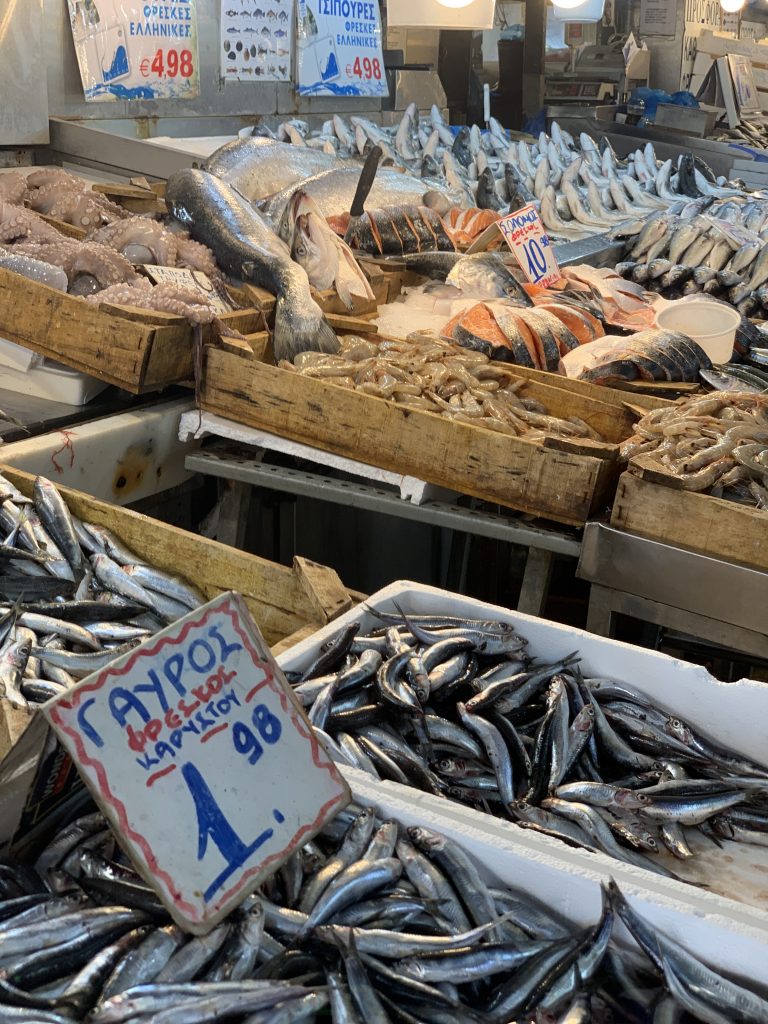 We looped back around to have lunch at O Thanasis, famous for its' souvlaki, which I feel like we know these more as kabobs or a gyro in the US.
We walked back thru Plaka to make our way back to the Acropolis Museum and get out of the heat. It was the only museum I had on the agenda for Greece because my Greek co-worker (Tatum, shoutout to you if you're reading this!) who helped me plan this trip said it was one of the only worth visiting.
On that note — that's one of my travel tips: If you know someone that's been to the place you're traveling to, or better from those regions, talk to them! Most people love to talk about their travels and give their recommendations. That's why I write this blog! Any time someone tells me they took one of their trips because I inspired them to see a new place I am truly overjoyed.
I should have taken the advice to make a reservation because we wanted to have dinner with a view of the Acropolis for our last night. But, so did everyone else and every rooftop restaurant was booked. We wanted to try a place called Stofi, for it's good TripAdvisor reviews, but no reservations meant no dinner for us. We ended up having a simple dinner of tzatziki and pizza in a courtyard off Lysikrates Square, it was a simple tourists place, but the lights in the trees made for a nice atmosphere as we said goodbye to Athens.
Let me know your thoughts in the comments below. And I am always happy to answer any questions!