Like the rest of the world our travel plans for 2020 were canceled. I couldn't take much more of being home and to be honest, I was feeling major burnout from working remotely. I knew I needed a few days to disconnect and get outside. Luckily for me, I live in California which is home to many diverse locations and National Parks. I did the research, as I always do, and landed on Sequoia and Kings Canyon National Park. It seemed it would have been less crowded than Yosemite and it's closer to the Los Angeles area.
So you're probably wondering how was it traveling during a pandemic? Well we didn't stop to use the restroom on the road, we packed a lot of snacks and PB&J supplies to minimize going out, and of course had our masks. Overall, it wasn't bad. We were on high alert and only 2 spots in the National Park were crowded, that was the General Sherman Tree and Morro Rock.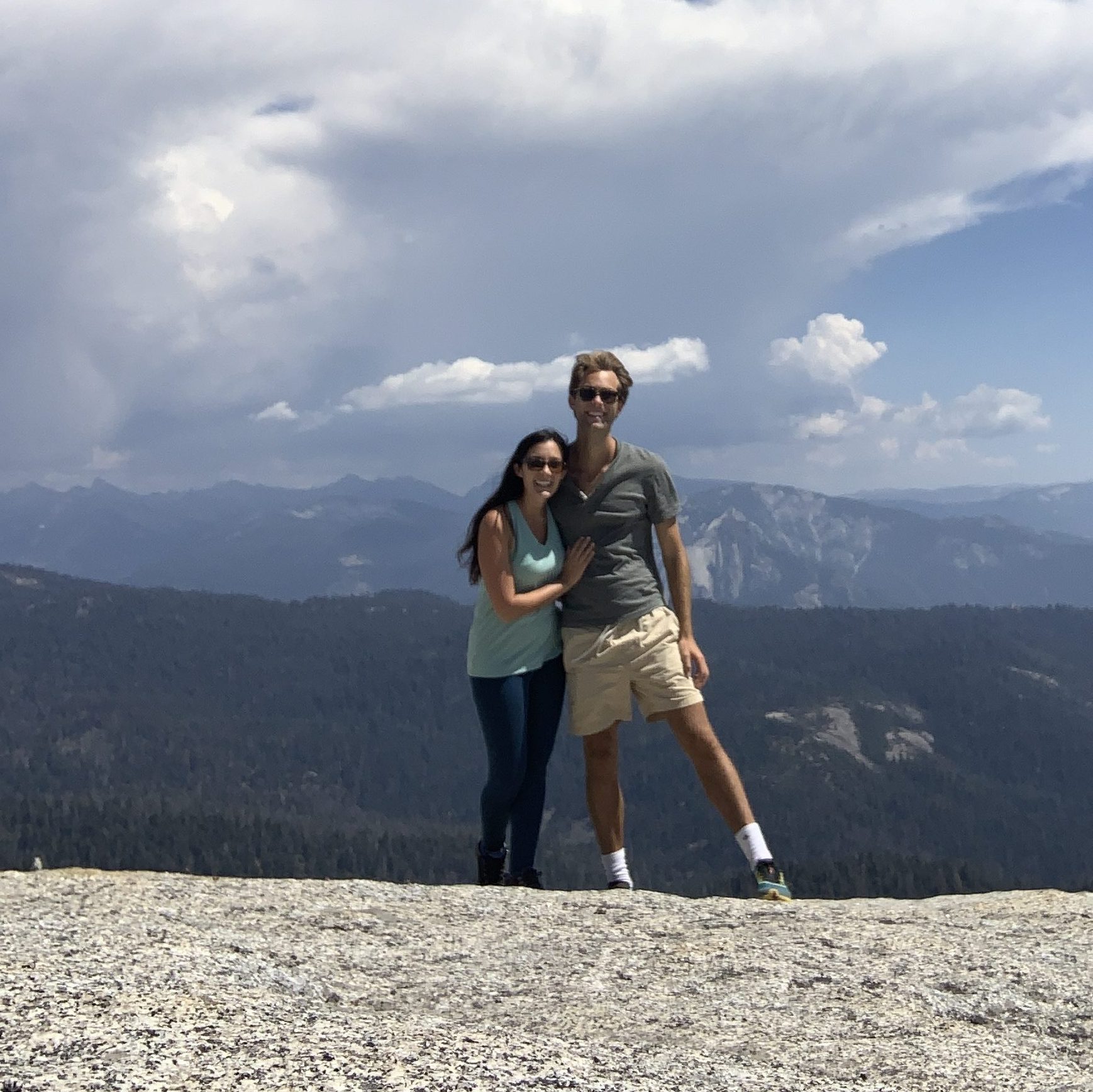 Where to stay?
We did stay at a hotel because we don't own any camping gear, and to be totally honest I am not a sleep in a tent alone kinda gal. Maybe in a large group, but in a bear populated area with only Henri? No, thanks. I grew up in an RV family, so sign me up for that any day!
We stayed far from the National Park because our last minute decision to go meant everything closer was expensive. We also wanted to stay at a branded hotel in hopes they were more strict to follow CDC guidelines. I called the Hampton Inn & Suites in Tulare prior to ask their procedures and had a comfortable stay. However, fair warning, it was a long drive there and back from the park. Some of the hotels we passed closer to the gates of Sequoia looked like they might as well be called "Bates Motel."
Day 1: Sequoia National Park
We drove up on Friday evening just to rest and be closer on Saturday morning. So day 1 was really Friday, but all we did was drive the 3 hours from Los Angeles to Tulare and stop at a Wendy's in Bakersfield.
We got up early on Saturday morning to drive to Sequoia from Tulare. Henri purchased our National Park pass online prior to our trip for the usual $35. We also downloaded the Sequoia National Park app to help plan our day. I highly suggest, as does the park, to download the app and have it loaded before entering because you won't have much service as you travel up the mountains. They still give you a paper map and daily newsletter upon entering as well.
General Sherman Tree
We started at the General Sherman Tree because we knew it would be a popular point of interest. The drive up to General Sherman is nice too because you see the landscape changing as more and more Sequoias pop up, I especially love the way the moss grows on the trunks and bark. We wore our masks most of the trail, except for a few photos in front of the tree and people were very respectful of space.
Little Mount Baldy
After, the General Sherman tree we drove up to Little Mount Baldy to do a longer hike. This hike was great because it was empty and there was so much wildlife. We saw a group of bucks and a mormont, which kind of looks like a beaver. There was maybe 3 other groups on this 3.4 mile out-and-back trail and it took us 2 and a half hours to complete. The peak is a high elevation of 8,044 feet. Which might have contributed to my feeling a bit of mountain sickness. It was just a slight headache, but walking helped all the motion sickness I always get while driving up mountains. Regardless, the view from the top is worth it! It gives you a full 360 view of the park.
Halstead Meadow
After the hike we had lunch down the street at the Halstead Meadow Picnic area. The meadow was so peaceful and looked like a scene straight out of a Taylor Swift music video. What the photos didn't capture were the little butterflies and insects that added to the whimsical feel.
We enjoyed our backpack full of PB&Js, Trader Joe's chips, trail mix, and fruit. And of course, we packed lots of water! I did see a water refill station at the entrance of General Sherman so having a reusable bottle was handy, it also keeps your water colder.
Morro Rock
After eating we started to drive down the mountain and went to hike the steps of Morro Rock. Except, it was really windy and really crowded. The path is also narrow, so that didn't help with the crowds. So I told Henri to continue without me. The older I get, I feel like I get a little more afraid of heights.
Off Crescent Meadow Road
After Morro Rock we made a few more stops off Crescent Meadow Road. We stopped at the Parker Group Trees to walk thru the cluster of Sequoias. Then we walked on a fallen log in Crescent Meadow that looked like Bambi's forest IRL. We even saw a deer on the way back to the parking lot!
Lastly, we had to drive thru Tunnel Log and get a commercial-like photo of Henri's orange Subaru Crosstrek. It was funny because the car in front of us asked if we could please stay back so they could get a clear photo with no other cars behind, so we asked the people behind us to do the same. I ran out of the car to do a 5 minute shoot of the car we nicknamed Junior. According to the app this giant sequoia tree feel across the road in 1937 and instead of removing it the Civilian Conservation Corp tunneled thru it.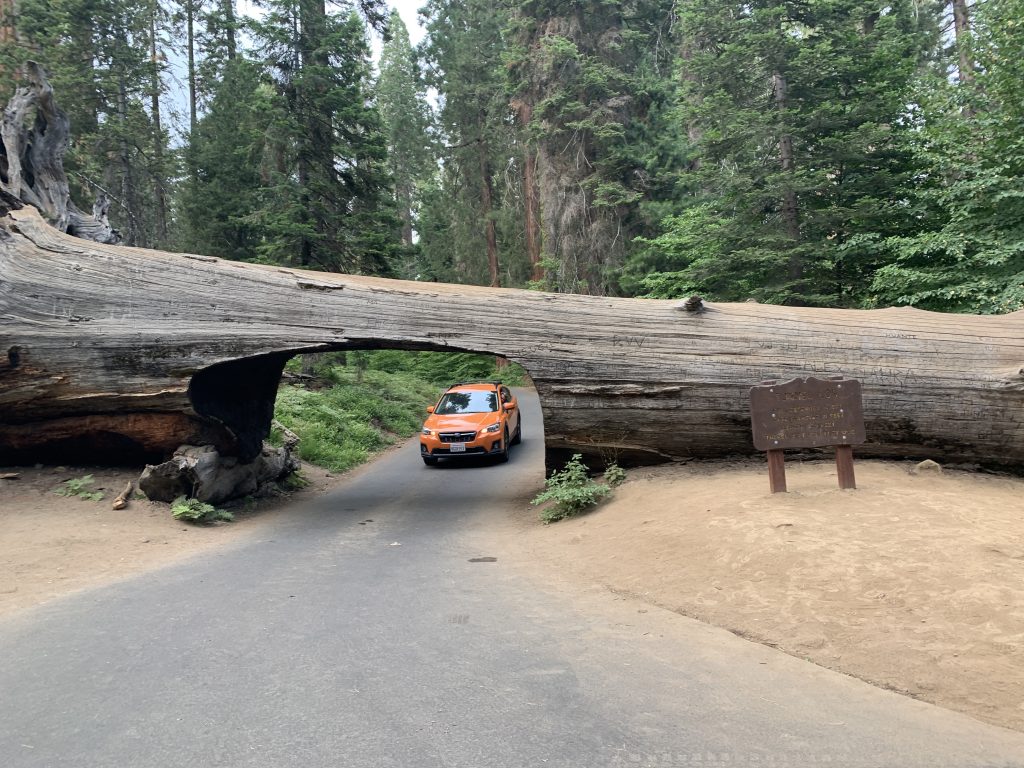 With that we headed back down to our hotel in Tulare before it got dark. The hotel was conveniently next to a Vallarta Supermarket, which if anyone knows me I frequent the Pasadena location for their ready-made tamales and enchiladas. So needless to say, we had Mexican take out before hitting the hay.
Day 2: Kings Canyon National Park
Driving thru Kings Canyon felt longer, we also went to the furthest point at Roads End to park for our hike. You enter Kings thru highway 180 and make your way up and around and down into the canyon.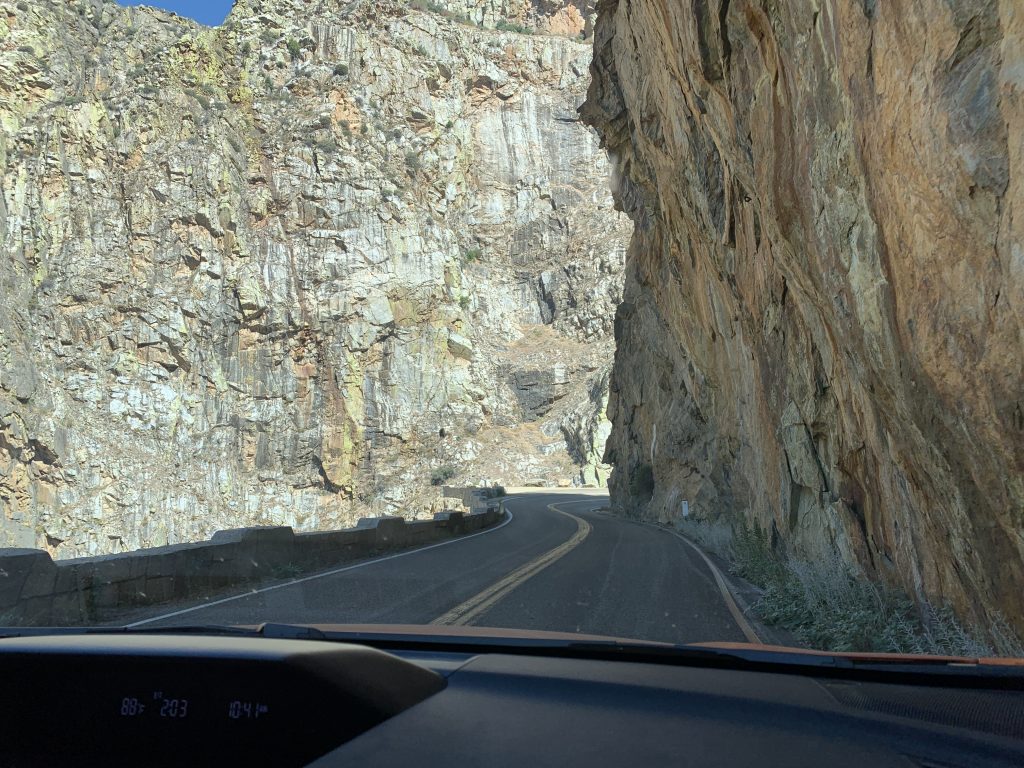 Mist Falls
We really only had one hike planned for Kings and that was Mist Falls. We started our day a little later than we had intended, but began hiking before it was too late for the long trail. It took us exactly 4 hours and 57 minutes to hike the trail, we timed it on the stop watch part of the clock app. It took us 2 hours and 20 minutes to get to the trailhead. We sat on a rock to have lunch for 50 minutes and it took us 1:50 to walk back.
The first two miles takes you along the sandy Cedar Grove Trail and then you take a left onto the Mist Falls trail. From there, the trail becomes shaded by the giant trees and shrubs that make you feel like you're on Endor and should be on the look out for Ewoks.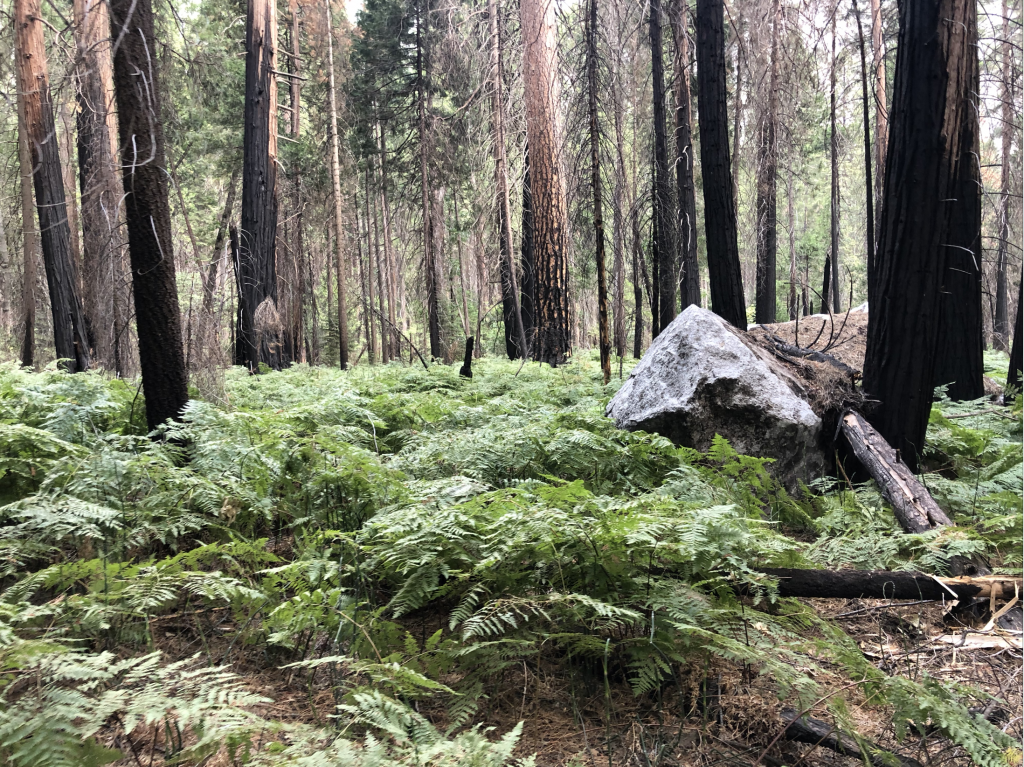 From there you walk along a beautiful creek that will eventually take you to a spot where the trail elevates 600 feet. You'll get a great view of the canyon behind you as you begin to ascend towards the falls.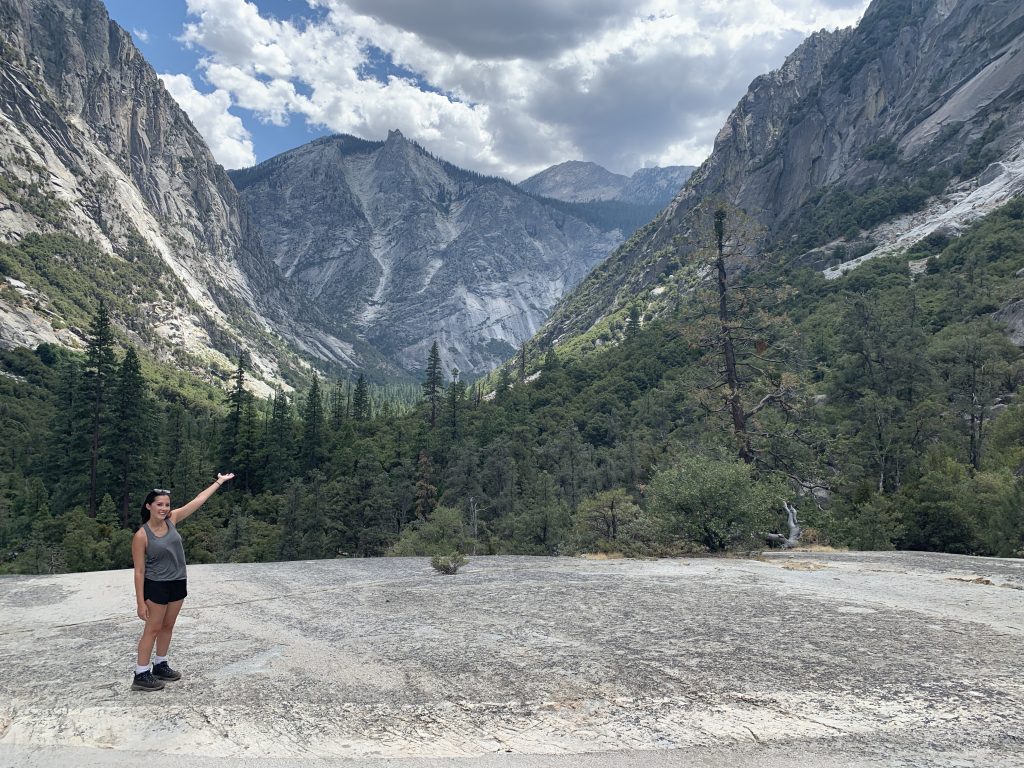 Once you get to the falls it is, as its' name implies, misty. With as hot as it was we were more than okay with it. We climbed up a big rock in front of the falls to eat lunch. After the long hike there it was rewarding to enjoy the scenery and sounds of the water crashing and running down the river.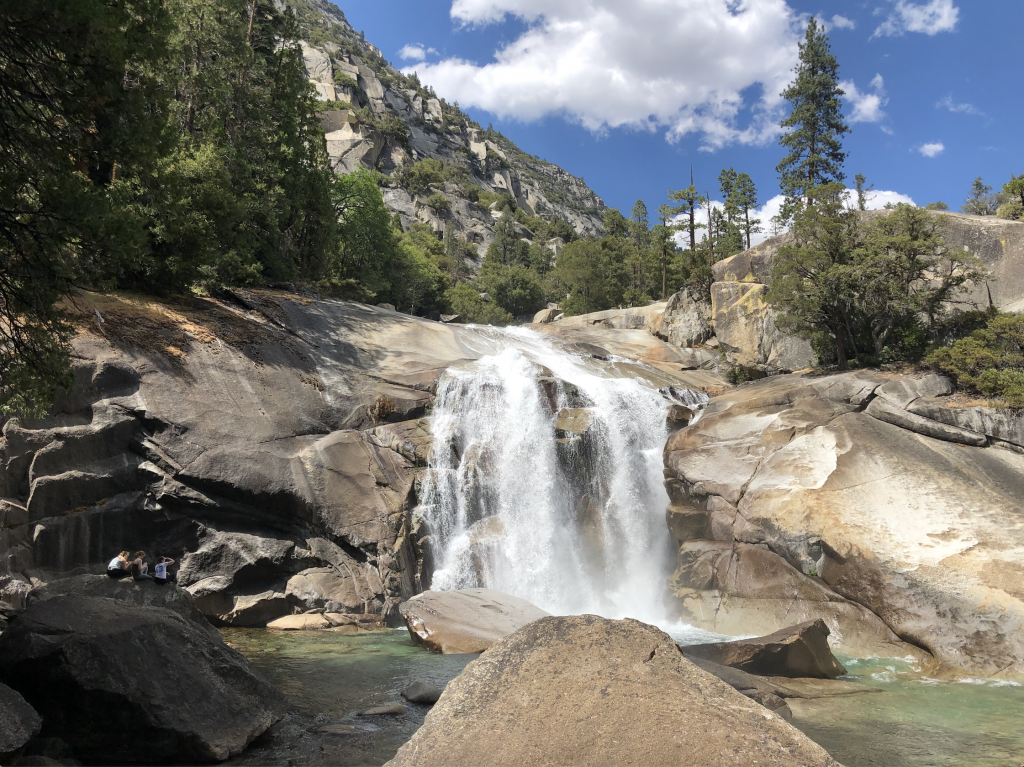 The water was so tempting to swim in, but we didn't. Had we had more time, we might have. Take caution if you're thinking to swim because these streams looks gentle, but there are a lot of warning signs about river deaths from drowning. Maybe that had something to do with why we really weren't feeling the swimming. For some relief from the heat we dunked out caps in the cold stream. That trick always works!
We were exhausted after the long day and made the trip back to our hotel. We left the next morning by 9 AM. It was a quick turnaround trip but it as just the break we needed from the unreal reality we are all living in right now.
Thanks for reading! Leave your comments and/or questions below!
If you're booking a trip thru Hotels.com, please use my affiliate link!