With the continuation of COVID, we really wanted to stay within the United States while feeling like we were on an exotic tropical vacation. And Maui provided just that.
I know there's a lot of back and forth about traveling to Hawaii, my advice? Only travel if you're vaccinated for the safety of yourself and others.
Top Tips
Get a Jeep!
Enjoy the food, especially seafood! (Check out my photo food guide here!)
If you want to paddle board, go early in the morning before the 10 a.m. trade-winds begin.
Always have a change of clothes handy. You never know when you'll see a roadside beach, fresh river, or waterfall.
Buy water at one of the markets when you land.
Stop off the highway for some of the best beaches.
Have cash handy for some of those cash only local vendors.
Day 1 | Ioa Valley State Monument, Roadside Beaches and Lahaina
The time change in Maui is 3-hours behind Los Angeles, which is lovely because it makes the first day longer. When we arrived at the rental car center, I said "oh look at the cute yellow Jeep" and the guy said we could upgrade for $30 a day. We looked at each other and quickly decided we would take it!
Originally, we wanted to reserve one, but Enterprise didn't have any online or when I called. So it was our lucky day! We opted for yellow for the full Jurassic Park aesthetic and obviously cute Instagram content.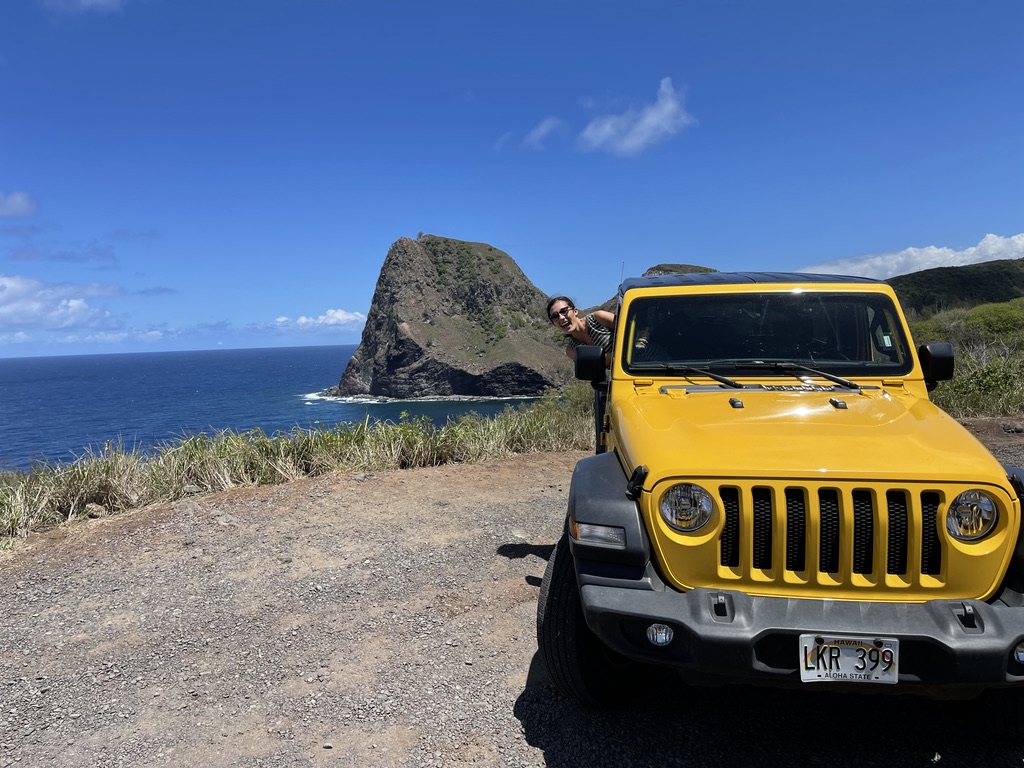 Before getting too far we went to Target near the airport for water and grabbed lunch at Acevedo's Hawaicano Cafe. It was was a mix of Hawaiian meets Mexican. We changed into hiking clothes to visit Iao State Valley Monument before driving to our stay in Lahaina.
Ioa Valley
Driving up to the park is relatively quick and there is free parking on the side of the road, I think. It says you pay for parking at some point, but no one was at the booth to take our money so we just walked in. It's a short walk to see the needle, but you can hike along the river which is really stunning. We also saw people swimming in parts of the river and that's why I say always carry a change of clothes. I wish I had a swimsuit on!
Beachside Parks
After, we drove towards Lahaina where we were staying for the first two nights of our trip. We stopped at a beach along the road called Hanakaoʻo Park to enjoy swimming and the sunset. The beachside parks are impressive, they have free parking and are so clean! It was close to resorts like the Hyatt and Marriott so we walked along the sand by those.
After, we went to check into our condo hotel and freshen up. I booked our stay thru Hotels.com which was comfy and fine for the 2 nights. We picked it because it was reasonably priced and we had rewards with them.
That first night we went to get dinner in Old Town Lahaina and ate at Paia Fish Market. Their shrimp tacos and local fish were excellent! We grabbed a terrible Dole Whip, which ruined it for the whole trip. After the long day, we quickly planned Day 2 and crashed for the night.

Day 2 | Nakalele Blowhole, a Very Scary Drive, and THE BEST shrimp burrito
We started the day by having breakfast at Kihei Caffe, which I kept seeing on the Maui Yelp Instagram. I didn't realize this wasn't the original location. Maybe we should have tried something local to the area since we were spending the last three nights in Kihei right next to the original. But that's okay because it was SO GOOD! We shared delightful macadamia pancakes with a side of eggs and Portuguese sausage.
Driving North on Maui
After, we drove north towards the Nakalele Blowhole, we beat some of the crowds because it was early. You can hike down to the blowhole, which is about a quarter mile. There are also some turnouts along the road where there are trails along the coast. It's similar to HWY 1 in California if you've ever done that trip.
We wanted to visit a gallery Henri saw in an article called Karen Lei's Gallery. However, the drive is not for the faint of heart. It required us to take the scariest nine minutes (each way) of driving we've ever done. And we think it's in the section of the map that is a breach of the rental car contract. Honestly, I probably wouldn't recommend doing this unless you love the feeling of "oh one wrong turn and we're dead". Despite the adrenaline-induced drive the gallery was really pretty and had a great view. We had to take some cool souvenirs home. We weren't driving back for nothing!
Honolua Bay
After the overly adventures drive we went to Honolua Bay off of Mile Marker: #32. It was easy to park off the road and the walk through the dense jungle of tropical plants feels like it's straight out of a movie. The cove is rather rocky and there are chickens walking around, for whatever reason there are a ton of chickens in Hawaii. The water was calm that day and it was a great place for snorkeling. We saw lots of fun fish, including a rainbow colored one. I heard other folks who swam out further than I ever will say they saw squid and a sting ray if snorkeling is your thing.
We were hungry, as you can tell we went longer than anticipated without eating, so we went back towards Lahaina to grab an early dinner. We picked up an incredible shrimp burrito, fish tacos, and mac salad from The Fish Market Maui. It's down the road from a beach called Honokowai Beach Park. It was a perfect to picnic and swim in as the sun sets.
Day 3 | Old Lahaina Town, Driving on the sand, Paia, Jaws, and THE BEST Tacos
We started the last day in Lahaina by grabbing a quick cup of coffee at Bad Ass Coffee and an acai bowl in the town. We wanted to see it in the daytime and took our breakfast to watch surfers. But be warned on where you park in the old town, we parked in a lot and got a ticket for allegedly being in a "bus parking" but it was so poorly marked. And Google Maps also marked it as "free parking".
After, I took my turn at driving only because I wanted to drive straight onto one of the beaches. Some of the roadside beaches don't have a park and parking lot, you just drive straight onto the sand, it's so cool!
Paia and Jaws
After soaking in morning sun we decided we would drive to Jaws Beach and Paia Town since we had time. We thought it would be better not to do it the same day as Hana since we were planning to go past Hana. If you didn't know, Jaws is a famous big-surf spot. This spot is featured in the HBO Max special, 100-Foot-Wave because during the winter the swells can get up to 70-feet! How insane is that? They have to tow them in, but anyways Henri loves to surf and we had to go.
It's really easy to miss! We felt like we were trespassing, but there's a small parking lot with surfboards and a homemade sign that says "Jaws". The road turns to dirt but luckily there was two other Jeeps in front of us so we felt up for some spontaneous off-roading. It was the perfect adventure for our rental. At one point we weren't sure we could make it through some vertical erosion so we parked and walked the rest of the way down. It was actually a fun hike and there was hardly anyone.
After, we went to to Paia Town. This is also where the original Paia Fish Market is, but we had already gone. So we went to the Flatbread Company. We got two flavors on one pizza, it was so good!
Checking into Kihei
After, we drove to check into our Airbnb in Kihei, it was a great location! And such a comfortable apartment, they also did a good job stocking it with essentials like beach towels, water floats, and games. After unpacking we went to walk along the water in the park in front of our stay and get a lay of the land.
That evening we had thought about going to a local Tiki bar, that looked like Disneyland's Tiki Room IRL. Instead, we stumbled upon the South Maui Fish Co. truck. OMG do yourself a favor and go there! The first visit, yes, we went twice, we had the fish tacos. They used a locally caught marlin and it was perfection. They were out of everything else, including their mac salad and poke. so we knew we had to go back.
Day 4 | Kihei Relaxation Day
We originally were going to to the Road to Hana, but thought we would save it for a weekday instead of the Sunday our day 4 landed on. We took it easy and had breakfast again at the original Kihei Caffe. What's most charming about the original is that the owner is there to take orders, he's a character. He asked us what we wanted and when Henri was about to say "Macadamia…" he said "let me guess my french toast?!" I said "see I told you Henri but he wanted pancakes." So the owner kindly said I am sending you a piece of my french toast and don't share any with him!
He sent over a perfectly plated plate of french toast just for me and shouted from the counter "Mercedes, what do you think?" It's those kind of moments that I love about traveling. Bonding over something as simple as breakfast with a local owner who has so much pride in his recipes.
Makena State Beach and Wailea
The water looked calm as we were eating so we thought we could spend all day blissfully paddle boarding. Only to find that the trade winds picked up just as we got on the water so that was a fail.
We pivoted our plans to drive near the hotel resorts and scope out other beaches. We spent a few hours at Makena State Beach. The parking is $15 dollars a day and you can pay with credit card. There's also little Makena, famously known for being a nude beach. And let me tell you… they were not kidding. There were people even surfing naked! Don't worry there's no photos, it's safe to keep scrolling.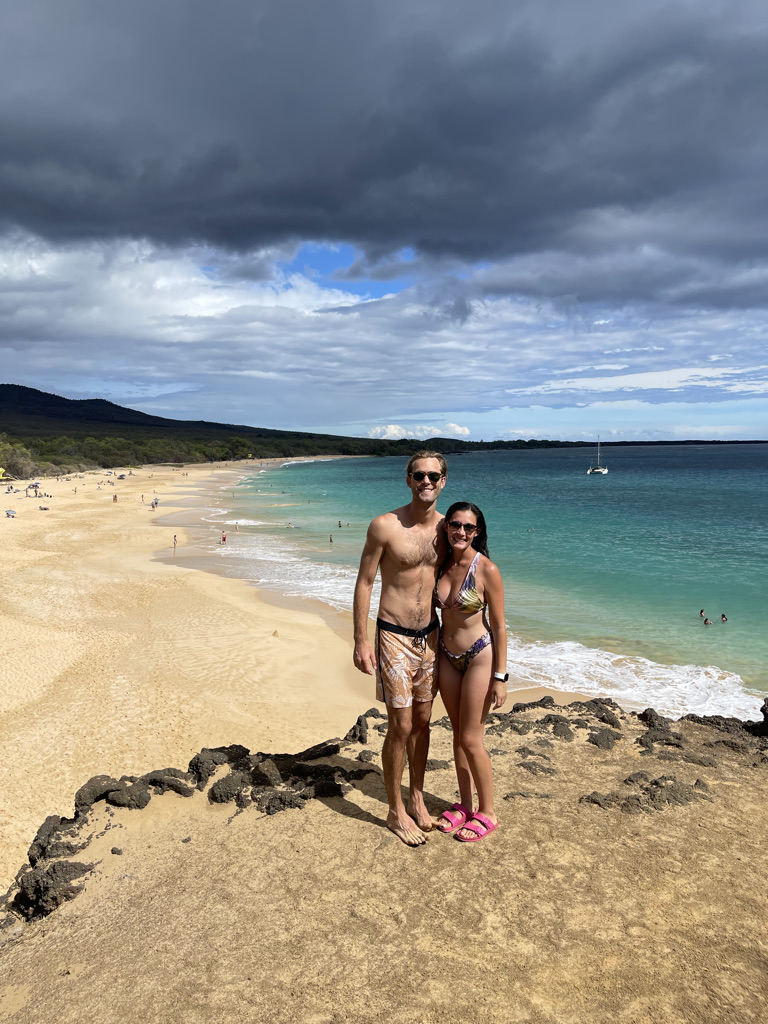 Since we were in the area on our way back I really wanted to see the Four Seasons in Maui because that's where they filmed the HBO series The White Lotus which we had finished watching in anticipation for our trip. So we picked up some poke from Foodland, which was really good, and picnicked at the beach for sunset.
Before heading off to bed early because of the big drive we had planned for the following day we did some googling to prepare and downloaded the app GyPSy. For a few bucks you can download the Road to Hana drive that comes with complete narration for the long road ahead and more importantly has an offline map which you'll want.
I needed something sweet so we visited Maui Sweet Shoppe. It's a local women-owned business which was nice to support. I had coconut and their local passion fruit flavor, it was delicious!
Day 5 | Road to Hana
Finally, the day to drive the famous Road to Hana had arrived. It was such a long day! We drove it ourselves (well Henri drove) and started bright and early at 5 am. I'm glad we did Paia and Jaws before to make more time for the spots further away. This drive is full of hairpin turns, one car lanes, waterfalls, beaches, and more. A tip before the Road to Hana: have cash handy for roadside food stalls. There wasn't many on our day out we think due to the fact that it was a Monday and COVID implications, but still have it.
We wanted banana bread from Aunty Sandy's, but it was closed because an employee contracted covid that weekend. Many places seemed closed due to COVID, or maybe it was because it was a Monday? Another mistake we made was not reserving Wai'anapanapa State Park, know as the black sand beach.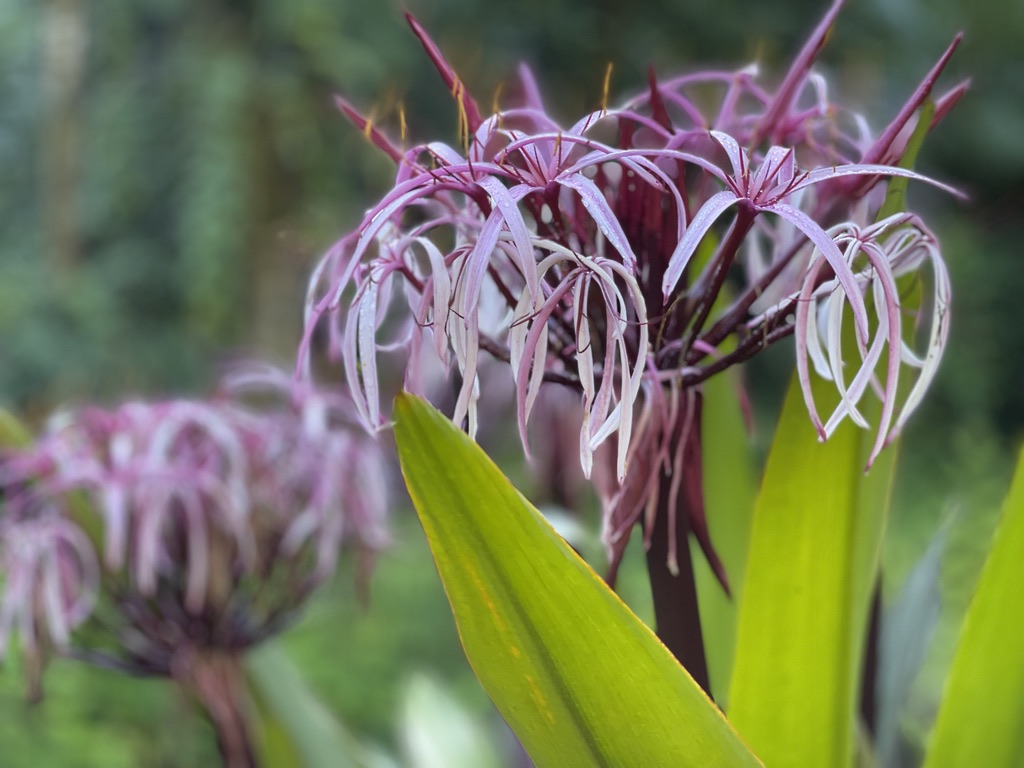 We went off the recommendations of the app on where to stop including the free Arboretum because I love plants. And down to the Ke'anae Peninsula where you'll see an outflow of black volcanic rocks being hit by ocean waves. We also went down to the town where The Beatles' George Harrison once had a home.
After hours of driving and no food in sight we found the famous Koki's Huli Huli Chicken. It was even featured on Gordon Ramsey's NatGeo Uncharted series! Here's where you'll need cash. It was $22 a plate, but was a hardy amount of food for both of us to share.
We took our lunch to go so we could visit Hamoa Beach, which the app said was the best place for swimming. It was one of our favorite stops, we could have stayed swimming in the calm warm water for much longer, but didn't want to lose the day since we were going 45 minutes past Hana to do the Pipiwai trail.
Past Hana | Kipahulu Park
After reaching Hana you can turn back or continue on to Kipahulu Park. Time your day right and you'll have time. This is also the site of the Seven Sacred Pools which are sometimes open for swimming. Sadly, they weren't the day we visited, but we could see them from a short walking trail that's off the parking lot. The Pipiwai trail is a 4-mile trail that took us about two and a half hours to hike. It leads you through a path of waterfalls like Makihiku and a peaceful bamboo forest. But the most rewarding is Waimoku Falls, there's a do not pass this point sign that we may or may not have trespassed through. The weather was okay to do so the day we went, we would not recommend doing this if it's a rainy day due to flash floods.
It was a great ending point to our tropical trip, though the winding road back to Keihei took some time we were happy we did the trek. We survived the road to Hana! We grabbed burgers at a local place called Maui Burgers in a Safeway shopping center, it was just okay. I wish we would had gone to Maui Brewing Company like we originally planned. But we were so tired from the 12 hour day we just wanted to eat, shower, and sleep.
Day 6 | One last beach morning
We slept in a bit before grabbing coffee and banana bread at Lava Java Coffee Roasters of Maui. It was a cute shop where we also found some fun vintage postcards and magnets. We popped into the surf shop so Henri could enjoy an hour of surfing while I soaked in the sun and watched. Neither of us really wanted to leave, we kept joking to ship us our dog Havana and work laptops and we could stay indefinitely.
We had to grab one last great Maui dish before our flight home so after walking on the beaches (where we saw a turtle who felt like he was literally waving goodbye to us) we went back to South Maui Fish Co one more time. We had their poke, mac salad, and the fish tacos again. It was incredible, it's been two months since this trip and we're still craving it.
Thanks for reading! Or as they say in Hawaii, Mahalo!