Who else is obsessed with Marie Kondo and The Home Edit lifestyle? I know it's not just me. Nothing sparks joy like a well organized home and that's especially true of my closet. It makes my little OCD heart so happy! I was feeling inspired after binge watching The Home Edit during quarantine. I also spend a lot, I mean a lot, of time on Pinterest. So I finally went for it!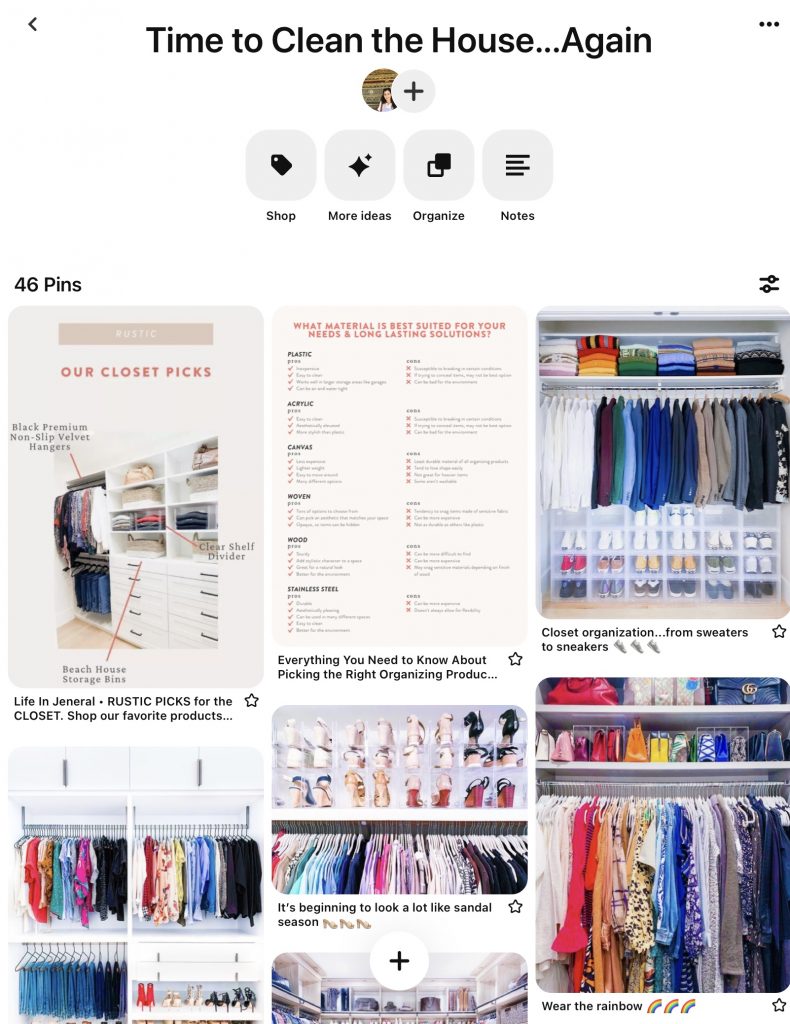 Step 1 | Plan and Prepare
First, I went to Costco to treat myself to two boxes of black velvet hangers! Wow I have never felt like more of an adult in my entire life than getting excited about hangers. After shopping around, I found that the Costco 50 pack is the best deal. I want to say they were $13.99-$17.99 when I bought them. They also go on rebate from time to time so that is a great chance to stock up!
The second thing I bought was clear shoe boxes on Amazon. And lastly, I bought a sample can of fun colored paint to give my closet a little glow up.
Step 2 | Edit
Before deep diving into changing hangers and painting, more on that in a minute, I did the edit part. I prefer to do it over a number of weeks. It's much less overwhelming that way.
I tackled different sections of my clothes and got rid of what no longer sparked joy — or what no longer fit over my hips. I don't do the Marie Kondo method of tossing everything out on the bed. That would give me an anxiety attack, it kinda does just thinking about it.
This past year at home was a great time to do this since we weren't really going anywhere. Except the grocery store and virtual meetings. However, I did keep my work clothes. It's all business casual since I worked for a theme park and now I'm at a tech company. Instead, I donated what I didn't need and I also put more expensive items on Poshmark. Surprisingly, I sold old Juicy Couture velour suits quickly! I am sure some Gen Z kid is super happy with their "vintage" clothes. (SIGH!)
After all the editing, I took the clothes out for the next part of this closet project.
Step 3 | Paint and Dry
I really wanted to do palm tree wallpaper like Clea and Joanna did on that one episode, but if you remember from my bedroom post, the walls here suck. I started pinning some ideas for fun painting techniques and let me tell you… not as easy as it looks.
Total Pinterest fail actually. I tried to do the raindrop-esc look, and it didn't work. Honestly, I was over it at that point and the paint fumes had hit me. I called it quits and settled with the fact that I am happy with the sunny yellow when I look in my full length mirror. It was a learning experience, for sure.
Step 4 | Organize
Once that dried I loaded in the clothes on those velvety new hangers. The black hangers really do make a difference. I feel like my closet looks like some chic ad in a home magazine convincing you to buy a custom closet (Ugh GOALS!) And since I have a lot of dresses I don't have then sliding off the hangers anymore.
Step 5 | The details
Lastly, I used the clear boxes I bought so I could see my shoes while protecting them from dust. I also moved my boot that, I hate to admit, I had under my bed. I put those on the floor with a basket where I put everyday sneakers and sandals that don't need a dedicated clear box.
Also the clear boxes from Amazon where much more reasonably priced than the ones at The Container Store. I also tried upcycling most of cardboard shoe boxes for drawer dividers, a la MarKon Method, and that worked well. And that was a wrap, happy organizing friends!
And don't forget to leave me a comment below! I would love to hear what your house projects have been and what inspired you in this post.