So, I am thinking I am going to start titling all my travel articles "Passport to…" Do we think that's cute? I was thinking about my blog branding and how I could improve and I'm hoping that Passports & Papers still makes sense. If you've never read about the blog, it's name, or me you should do that! This will all make more sense. Anyways! Let me get to the point. I have been focusing more on local travel for obvious reasons (the VID), but also burnout is real, so I think quarterly trips need to become a priority.
Day 1 | Saturday in Santa Barbara
We drove up from my place in Los Angeles on Saturday morning. We typically ask for Mondays off and book trips Saturday through Monday. It's a good way to save money on hotels and it gives you day where points of interest are less crowded.
Our Hotel
We made breakfast at home and took coffees for the road. Once in Santa Barbara we tried to check in at our Hotel but, the room wasn't ready so we decided to walk on State Street. We booked the Holiday Inn Express which is right off State Street and a really cool hotel. It's a historic building from 1916 and was previously home to the Hotel Virginia. Let's stop and appreciate the Spanish tiles on the stairs for a moment, please.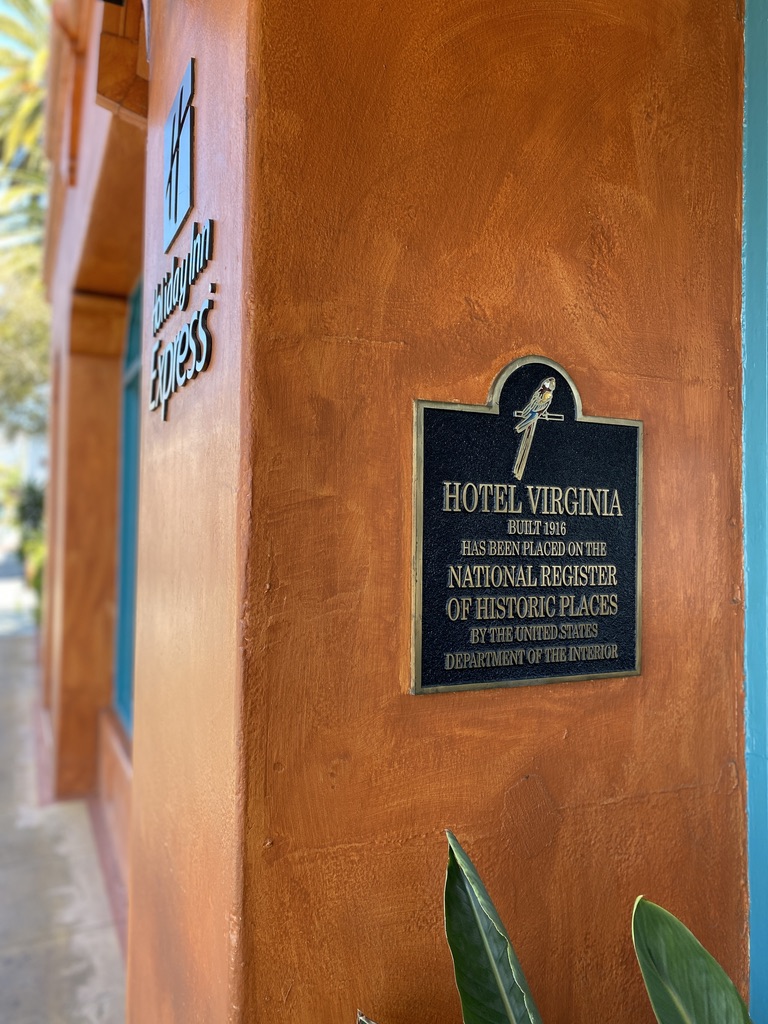 Good eats and exploring
We walked down State Street to get a lay of the land and then had lunch at Holden's on their patio. Their patio was great for people watching (safely) and had lots of trees which helped with social distancing. We shared sliders and a refreshing California Club salad. And after lunch we had to walk back over to enjoy a cone from McConnell's Ice Cream! We have McConnell's in LA too and it's my absolute favorite! It's so rich and creamy! I highly recommend the Earl Grey & Shortbread, Turkish Coffee, Pistachio, and Eureka Lemon with Marionberry.
We were able to check in after lunch and drop off our bags and change into beach clothes. We first went to explore Butterfly Beach, but it was so windy! So we just went walking there on the path which is really beautiful, there are incredible homes there and the famous Four Seasons Resort, The Biltmore.
Since Henri wanted to do a little sunset surfing we drove over to Leadbetter Beach. I don't surf, so I enjoyed reading a book next to the waves while soaking the sun and scenery.
After the sun went down, we went back to the hotel to get ready for dinner at Los Agaves Mexican. In my opinion they close kind of early for a Saturday night (9 p.m. really?), but maybe they're still observing COVID hours. It was highly recommended by a friend that lives in SB and it was on a lot of "best Mexican food" list…and for good reason. We totally over ordered for just the two of us, but it was delicious! I really liked the Agaves Burrito that's filled with fish and shrimp. The nachos were also very good and Henri really liked the tacos, I was too full to fairly assess them! The portions were big, so come hungry or just don't order as much as we did. It left us in a decent food coma into the next day. And we needed to walk after dinner so we drove from the restaurant to go on a moonlight stroll at Stearns Wharf.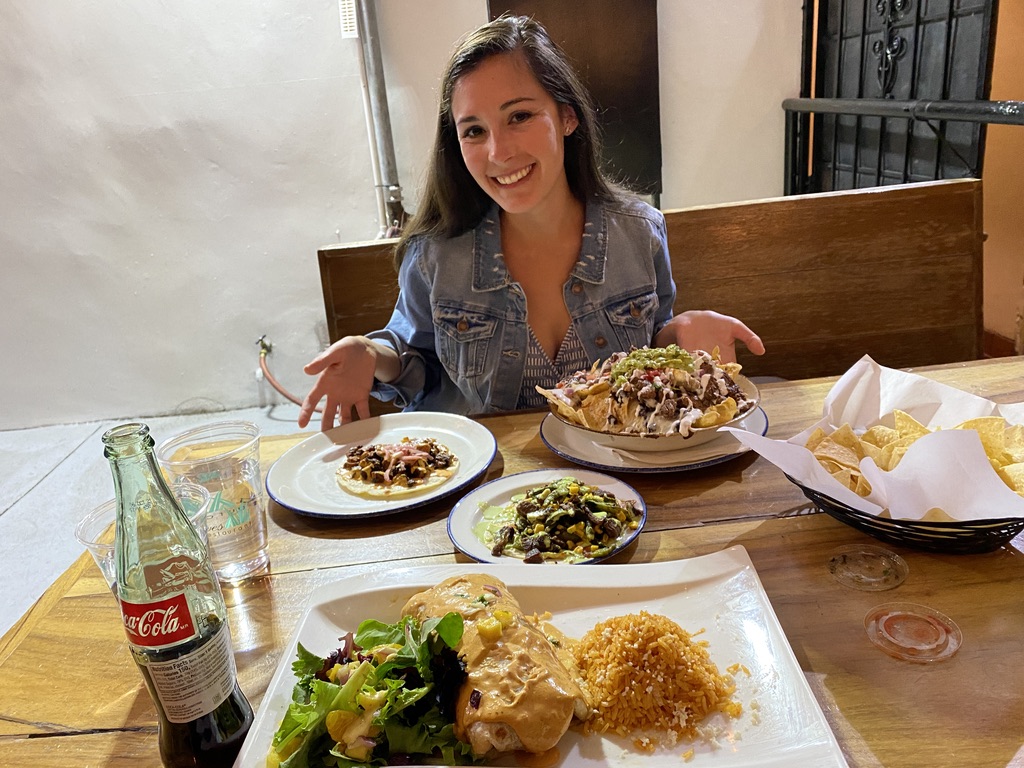 Day 2 | Sunday in Santa Barbara
Vacations always call for getting up for a walk to get a good cup of joe. We grabbed a yogurt, fruit, and cereal bar from the complimentary breakfast and walked to Dunes Coffee. We were still full from dinner the night before, so a light breakfast felt just fine. And the coffee was a hit! I was particularly found of their logo: shark's having coffee, LOL! And they even added little mask to the cute drawings for their social distancing signs.
Rincon Beach
We walked back to the hotel to load up the car for the beach. It was 10 a.m. when we arrived to Rincon Beach for some more surfing and fun in the sun. Rincon Beach is known as the "Queen of the Coast" to the surf crowd. (Totally making that the title of my scrapbook page for this day!) It's located on the border of the Santa Barbara County line and the parking was easy, especially in the morning. It was a great view from the parking lot too. As silly as it sounds, there's really cool shells on this beach! They look like the kind from souvenir shops, I must admit I did take one home. I spent the morning reading again and we played some frisbee on the beach. There was a lot of dogs on this beach, so if we come again maybe we'll bring Havana.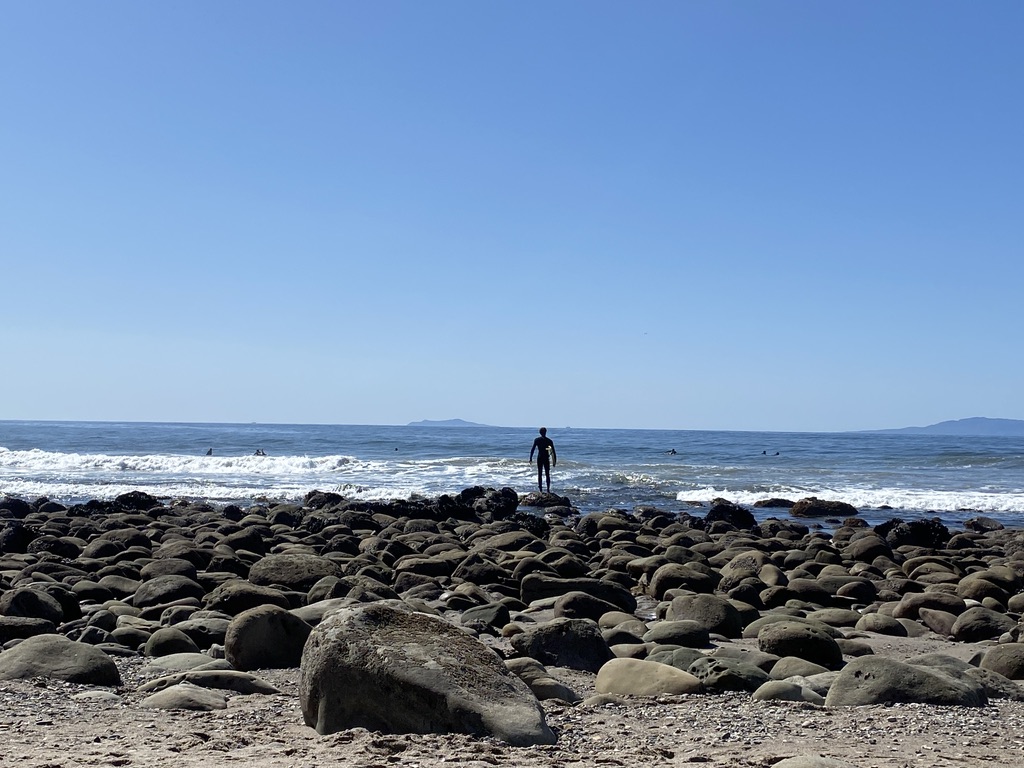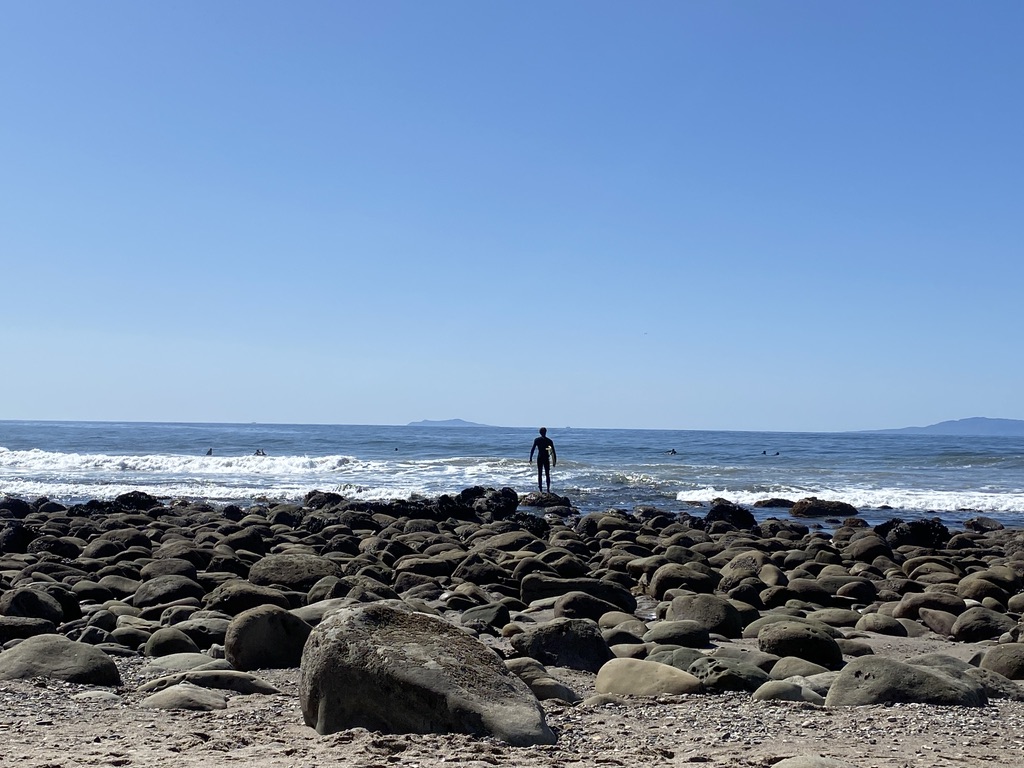 Hiking to Inspiration Point
We also wanted to go hiking that afternoon, so we left the beach around 3 p.m. and went to change again to drive to Inspiration Point. The trail is just off Tunnel Road, and there is parking along the road. There's no clear signage that you're in the right spot so use the link to follow AllTrails directions and ask folks along the way. It's not a long hike, but it was a little steeper than I anticipated and I was already tired from the sun we soaked up at the beach. There's a point in the trail were you veer right thru some shrubbery, do not go left up the steep vertical hill! There's some kind of electrical tower, that is not inspiration point.
The view from what was the top of inspiration point is a breathtaking view over all of Santa Barbara. It looks so lush and was a nice way to enjoy the last few hours of sunlight.
We honestly didn't eat much that day because I think we were in a food coma from the night before, but after all the sun and hike (and Henri surfed) we were ready to wash up and go out for a nice dinner. Good thing I brought some snacks in my backpack too!
Did someone say dinner?
We decided to go to dinner on State Street because we wanted to walk and things were closing early. Originally, we planned on Mexican food again at a place called Corazon Cocina in the SB Public Market. We walked there and it looked good, but we weren't feeling it. It was a little brisk out and warm pasta sounded more appetizing! Also, after the long day we wanted to sit somewhere with a nice atmosphere and just have a long dinner.
There was a place that caught our attention because it had a pretty patio with lights and tables with fire pits in the middle. And just our luck, it was Italian food! It's called Mizza, it's also a wine bar and the food was delicious! We had a prosciutto pizza and the salmon pasta. And we had to finish the night with a tiramisu!
Day 3 | Monday Morning in Santa Barbara
As we typically like to do, we went on another coffee shop walk in the morning. This time we went to Handlebar Coffee across from the El Presidio Historic Park. Something I really love about Santa Barbara is its' style of beautiful Spanish-revival architecture. The whites, the textures, the tiles, the bougainvillea growing on the sides of a wall all remind me of my travels to Europe. Oh, also the iced latte was on point.
We saved the Old Mission for Monday morning and I am so glad we did because it was completely empty. The weather was also lovely, so it made for a good morning activity! It's not a very big mission so you don't need too much time, but it is a great place to picnic in front of which we saw a lot of people doing Sunday when we drove past it on our way to the hike.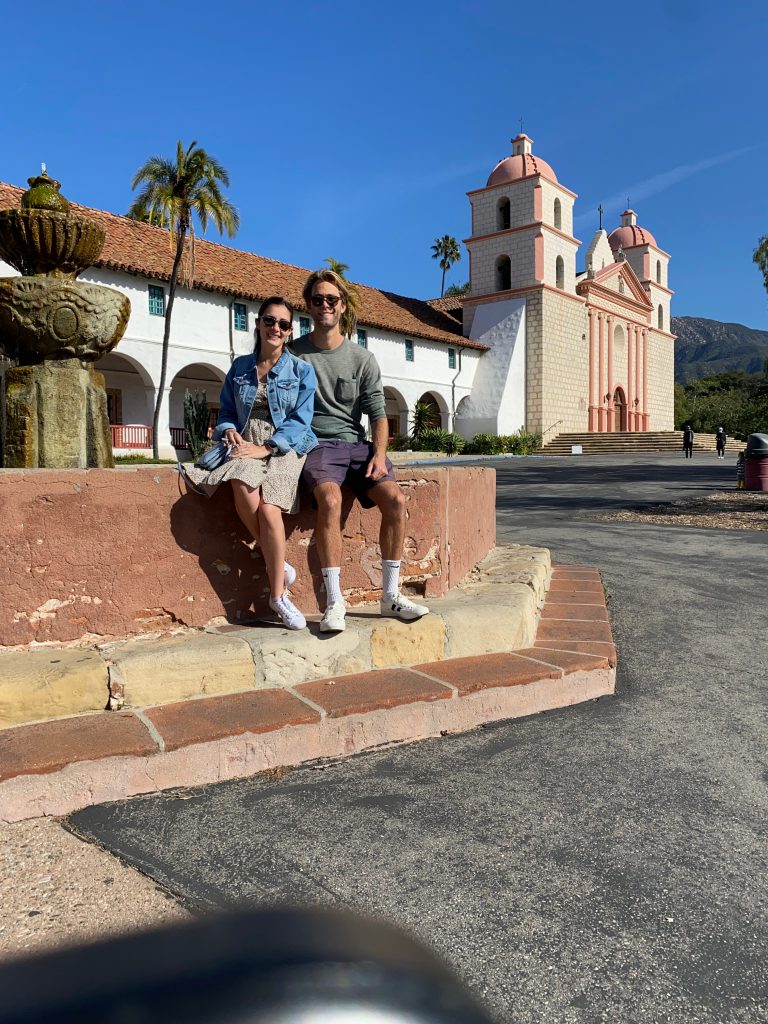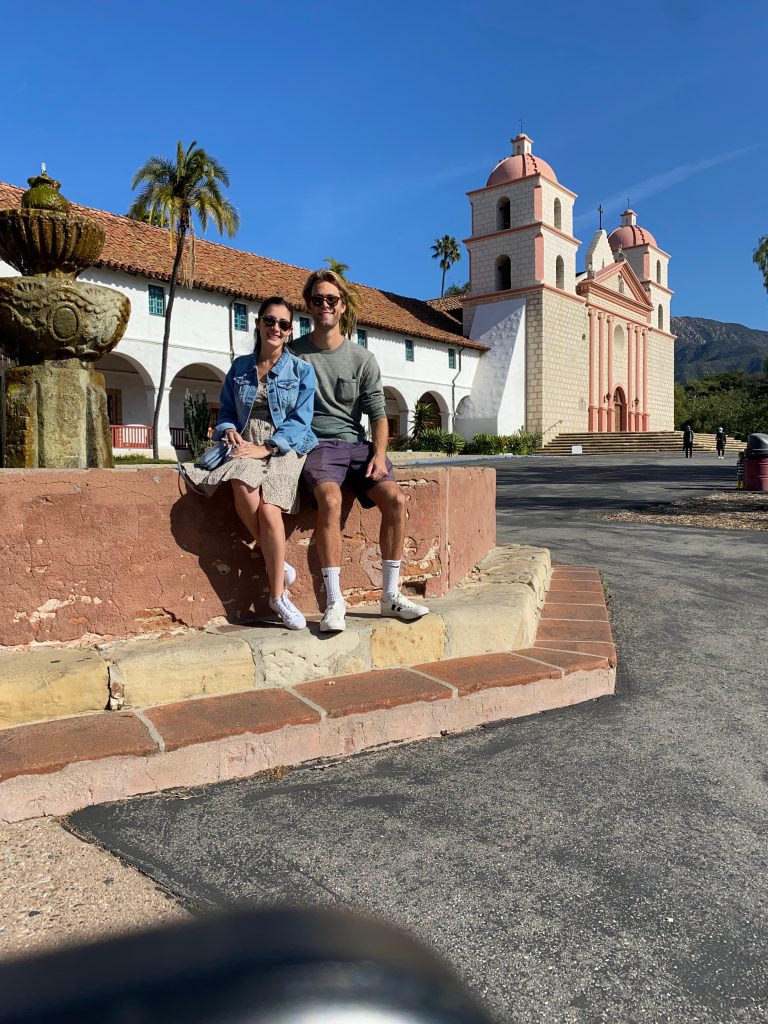 After the mission we packed up and hit the road. We should have gone to get tacos and more ice cream for lunch, but it was a little early for that (11 a.m.). I also wanted to stop at the Camarillo Outlets! They have good stores, but it's really spread out so we spent more time then we intended to there. I got a classic black The North Face jacket for $85 bucks though (usually $200) so totally worth a stop for that alone!
And with that we were zapped back to reality. It's always nice to get away and I could have stayed another day to ride bikes on the beach and keep exploring, but until next time!
Where's your favorite weekend trip from the Los Angeles/Orange County area? Let us know in the comments below! And if you have more Santa Barbara recs drop 'em there too because we will certainly be going back!