My brother was in the Army and his first duty station was at Arlington National Cemetery in Virginia. It's been a quick 3 years and I wanted to visited before his time near DC came to an end. COVID obviously threw a wrench in visiting for awhile. So I was excited we finally made it for a long weekend trip.
I've never visited our nation's capitol, but I knew I'd always like to see it at cherry blossom season. Unfortunately, the cold winter in the area meant we were too early for peak bloom!
Day 1 | Thursday Evening in DC
We took a direct flight from LAX to Regan on a Thursday. With the time change, we arrived around 4 p.m. which was perfect for check-in at our hotel, The Hyatt Place National Mall. We stayed near the National Mall so it was easy to walk everywhere. This is going to make me sound dumb, but when my brother first told me I had to go to "The Mall" in DC I was confused. I said "David, we have so much shopping in LA, I don't really want to do that in DC." The National Mall is actually part of the national park service. It's a promenade from the Washington Monument to the Capitol building and it is filled with some of the nation's best museums and monuments.
We took an an evening stroll, passing The Washington Monument, Capitol, and The White House while walking to dinner at a place called Founding Farmers. The guys ordered chicken and waffles and I ordered a warm chicken pot pie. Then we ordered too much dessert including a carrot cake I would recommend and a chocolate cheesecake I would not recommend. With full bellies we walked back in the chilly air and talked through our agenda for the next day.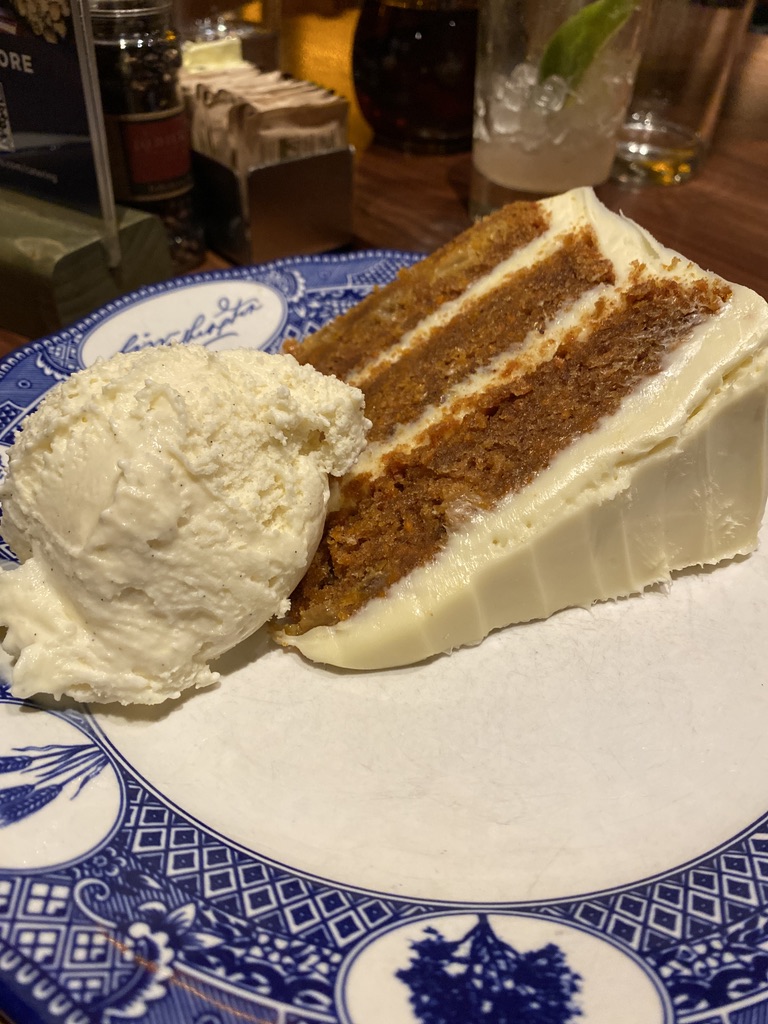 Day 2 | Exploring DC in 12.54 miles
Henri and I love to walk when we're traveling! It's a great way to disconnect from the digital worlds we live in and really see a city. We bundled up and kick started the day by walking 1.6 miles from our hotel to Pearl's Bagels.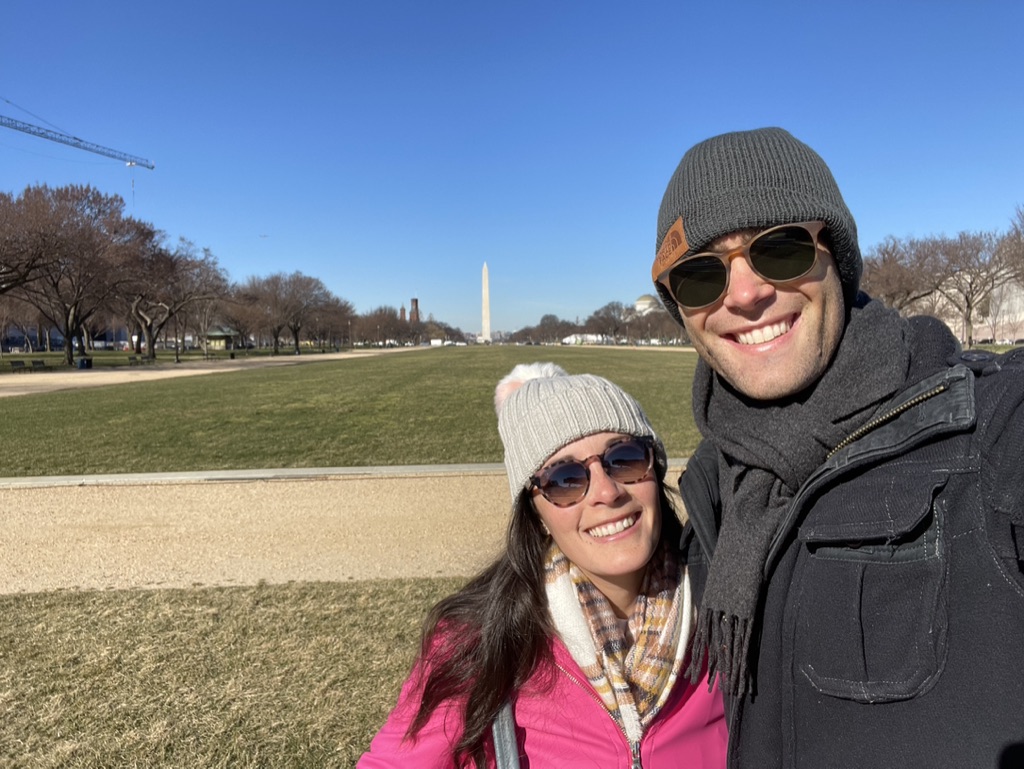 I had an image of their signature "The Frenchie" bagel saved on my Instagram for months. We also grabbed a coffee at Compass Coffee, a local chain, along the way. It wasn't our favorite and I would not recommend going. We regretted not having coffee from Pearl's. It's a cute little shop named after a French bull dog, with the most epic bathroom wallpaper, bright light, and a cute ambience to sit and enjoy their delicious bagels. We did two sandwiches, the signature Frenchie and The Green Monster both on everything bagels. They were both scrumptious, but The Frenchie was a real knock out! They also recommended El Pollito, which we maybe should have gone for instead of The Green Monster, but oh well. The Frenchie is a perfect combo of ham, eggs and gruyere cheese with dijon mustard.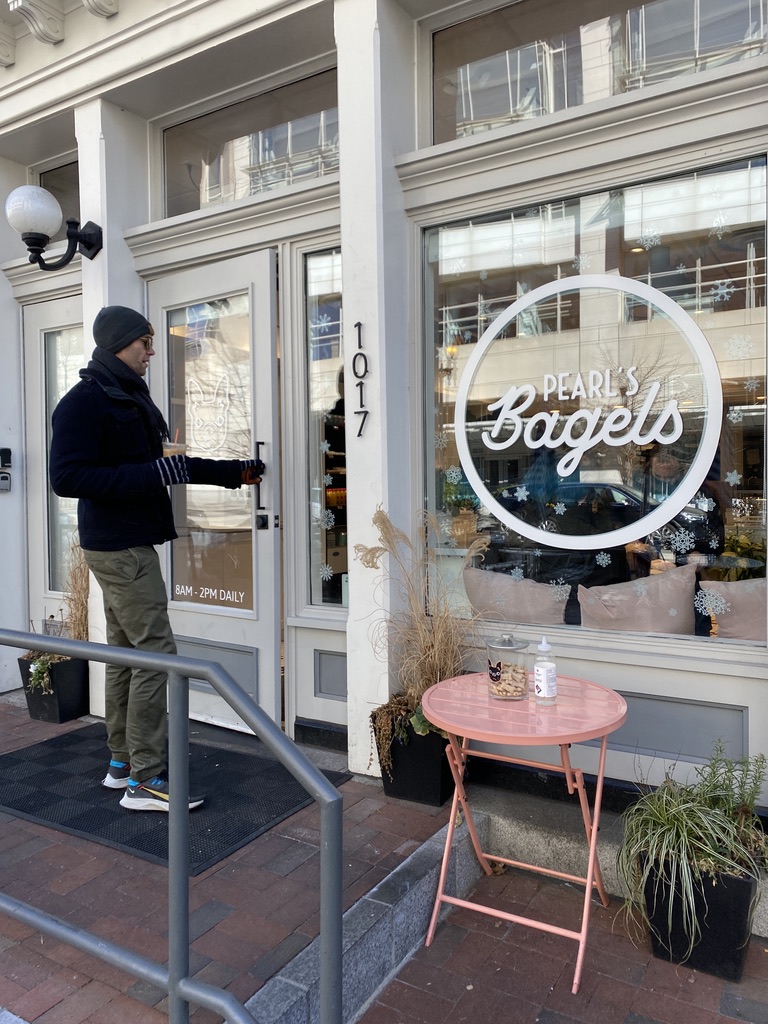 After, we took a quick Uber ride to visit Arlington Cemetery (to save time from walking). We visited all the major spots like the Tomb of the Unknown Solider, the Kennedy's graves and eternal flame. We even caught a glimpse of my brother in action during a funeral service. It was hauntingly beautiful. They have horse drawn caissons from the WWI time period (circa 1918-1919), a band playing, and ceremonial gunshots.
From there we walk to the Lincoln Memorial and down towards the Washington Monument. We stopped to grab pizzas from &Pizza on E Street and picnicked on the Mall before going into the National Museum of American History. It's my brother's favorites and was way better than I expected! I thought it would be all about presidents, but it was more than that. It had interesting exhibits about technology, commerce, food, and cinema including the original red shoes from The Wizard of Oz! Also, the First Ladies section is excellent, it has all the inauguration dresses.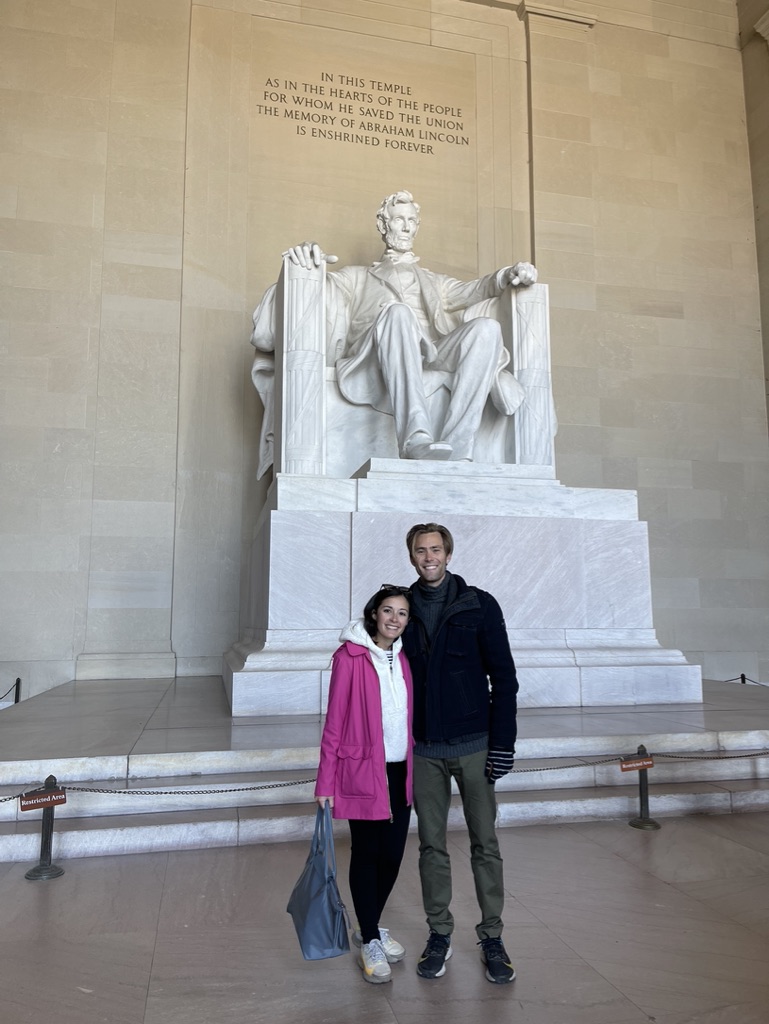 After walking 12.5 miles we met my brother and needed a break before meeting with some friends for dinner. We had dinner at a trendy Indian restaurant called Pappe, it was a great way to end a great day.
Day 3 | Exploring Virginia and George Washington's House
My brothers' only request while we were in town was that we visit Mount Vernon, the home of none other than George Washington himself. David planned it for us and got tickets that included the full house tour.
On the way we stopped in Alexandria, Virginia to pick up breakfast to-go at Cafe du Sole. It was a really charming French cafe that we would have liked to sit and eat at, but we were running late to our time slot and my brother was getting grumpy. So we ordered a great ham and cheese sandwich and loaf with coffees to eat in the car. We decided we could stop back at Alexandria for lunch on the way back.
We began with the house tour which was full of wallpaper galore, Washington's room, office, and their "kitchen". After the brief guided tour we walked the grounds where there are folks dressed in the garb from the time period marching around and farm animals. We thought we were done until we realized there was a huge museum behind an unsuspecting door of the main building.
We were all hungry after the few hours we spent at Mount Vernon! So we made our way back to old town Alexandria for a late lunch at Chadwick's and a walk in the town. It was one of my favorite areas on the whole trip! It was so charming and quaint.
After, my brother took us onto his base for a tour of where he's been living the past 3 years. We stopped by the exchange where I of course had to buy something (but also, how did he not tell me they sold real things? I thought it was going to just be I love America shirts), to see the different areas, his barracks, and the horses! The horses were a nice treat for me. I think most people know this about me but I grew up riding and competing, so horses hold a very special place in my heart.
It was still somewhat early after my brother dropped us off so we decided to freshen up and go to dinner just the two of us. We found a French restaurant in Georgetown called Brasserie Liberté. I somehow stumbled upon it by looking at TikTok DC food videos and there were some shots of the mac and cheese so naturally we had to go. Henri ordered the burger and I obviously ordered the mac and cheese. It was delightful, but to make matters even better was the desserts. We ordered a latte to pair with a fantastic crème brûlée and crème du chocolate. It was une bonne soirée indeed and a wonderful way to end day 3.
Day 4 | The Declaration, Holocaust, and Cupcakes
Sunday morning we woke up early to try for same day tickets to the Holocaust Museum. They release tickets at 7 a.m. daily and we were able to get a set. Then we went on a drizzly morning walk to the Capitol building, the Supreme Court, and to grab a coffee at Ebenezers. We wanted to go to the US Botanical Garden, but the conservatory was closed.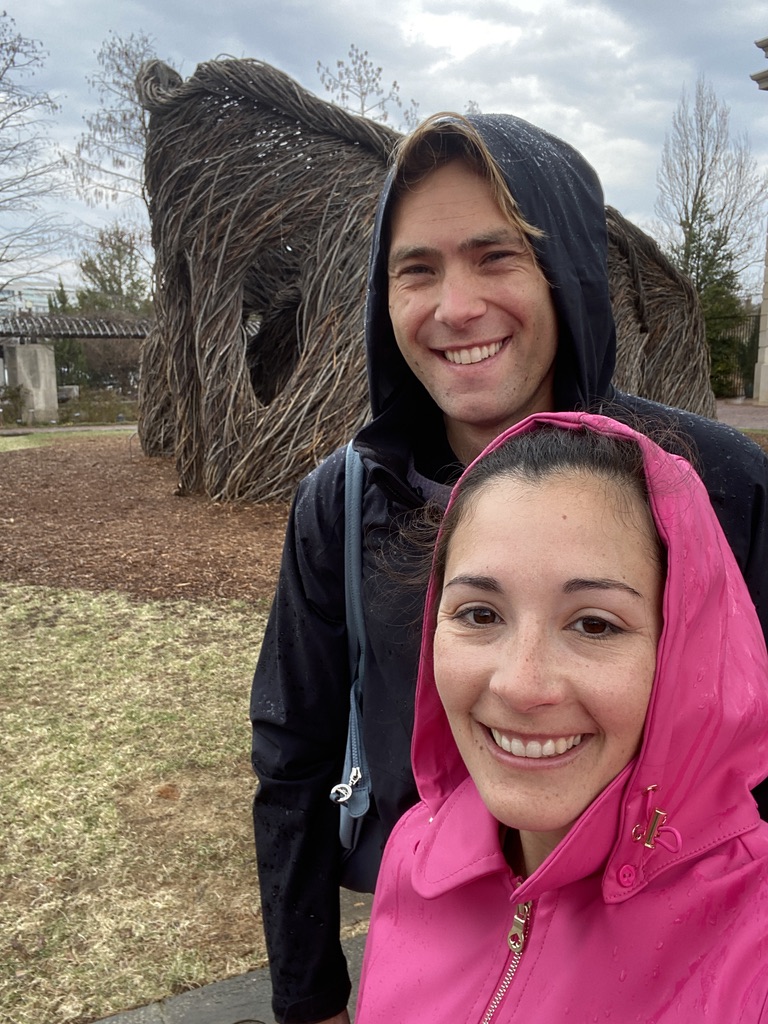 We also had reservations for The National Archives to see some of the most important documents in US history: The Declaration of Independence, the Constitution, and the Bill of Rights. Like all museums in DC there's a lot to the building and they're pretty interactive. There's also no photos in this building, but if you're a fan of Hamilton this museum is a must!
After, we went to the Holocaust museum, which does a good job of taking you thru the somber story of what happened during WWII. You'll leave with a heavy weight on your chest. Our stomach's were also ready to eat! So we went back to Georgetown for dinner and to get some cheery cupcakes after the heavy subject.
We ate at Il Canale for pizza and pasta, it had a sign that they made the Top 100 list on Yelp. Henri couldn't believe it and we laughed when we looked it up and it indeed is on the list. After dinner, we waited in a long line at Georgetown Cupcakes. Originally we wanted to try Baked and Wired, but it was closed early that Sunday, so check the hours. We were all exhausted after the long day! It was time we said our goodbyes since we were leaving the next day and wouldn't see my brother and his girlfriend.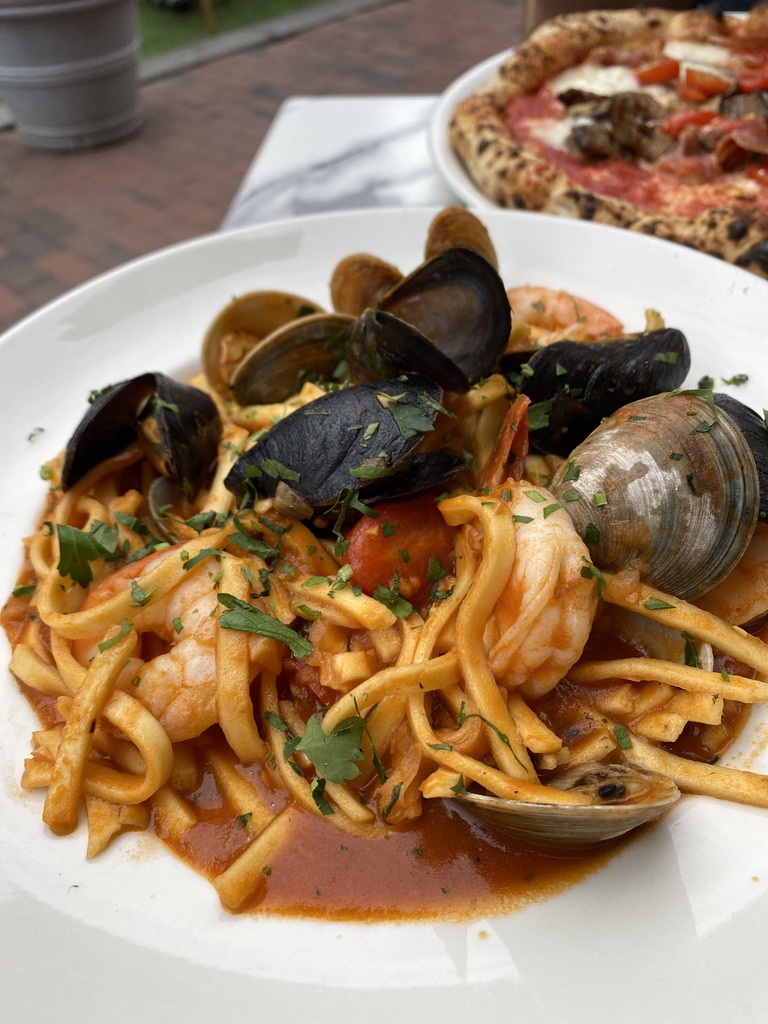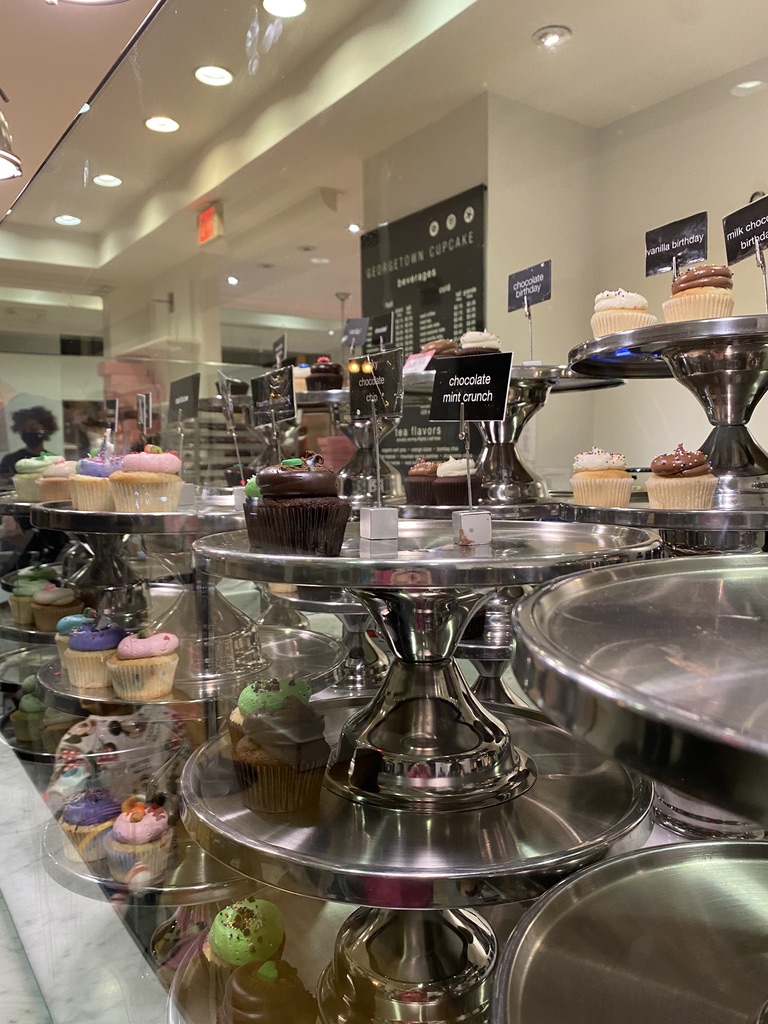 Day 5 | The best almond cake and one last walk in DC
On the final morning in DC we walked to Wydown Coffee on 14th Street. They had a great almond cake, it was so good we got a second one for the plane. We also stopped at Trader Joe's for some plane snacks.
From there we walked towards Logan circle, down P street to Dupont circle, and back towards the White House, and down the mall. We also popped into the Smithsonian Castle building since we had extra time.
DC was a great trip! I loved the French influence in the cities architecture, the history, and of course the few cherry blossoms we saw.
Where in the US should we go next?