Like many women, I knew who would be my maid of honor before I knew who would be my husband. My dear friend Abby and I have been friends since we were just 16-years-old.
We met at a prime age and have been best friends ever since. We're the best kind of best friends too. The kind were there's no drama if you cancel plans or haven't talked in a week. And we are always standing on the sidelines cheering for each other. We're happiest drinking a bottle of wine and eating a Trader Joe's pizza spending time together. Though an occasional outing is nice too.
So when Henri proposed, I quickly took to Pinterest to design a Maid of Honor proposal box!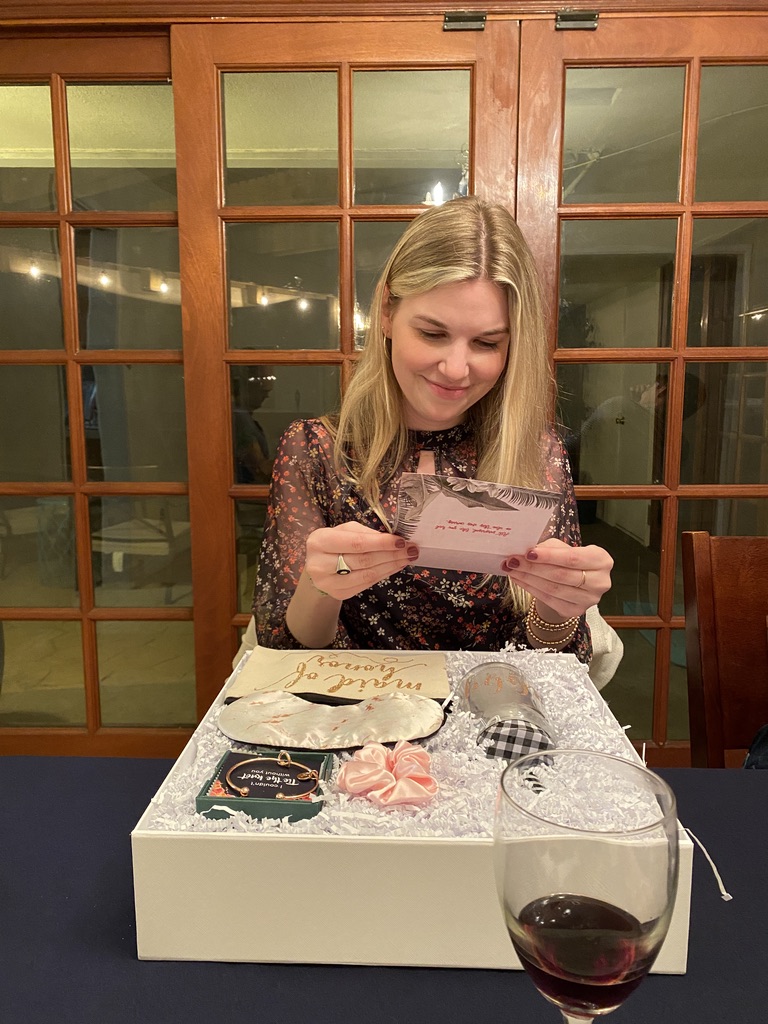 We opted for only having her and our brothers up there with us. She is essentially the sister I never had! As fun as having a full on bridal party sounded, I've heard a lot of friends stress about it. So I only gave Abby the "honor" of stressing (sorry Abbs!). I promised to try my best not be too much of an annoying bride. Even though she already knows my overly detailed type A personality all too well. Because we love to craft together I took pride in making her some DIY projects.
What I included in the box:
Bracelet that said "I can't tie the knot without you" and her first initial, Amazon
"Act surprised, like you had no idea this was coming" Card, made with Cricut
Maid of Honor canvas makeup bag, created with Cricut Iron on vinyl
Hair scrunchie and eye mask
Custom name mason jar, made with Cricut and vinyl
Lastly, I packaged it in a pretty white box with stuffing. I actually repurposed the box from a company gift and added her name in sparkly rose gold vinyl. Another route I would recommend is getting a box from HomeGoods that your bridal party can repurpose for storage. The presentation is a big part of the overall gift! This was quick and easy to put together and I am so grateful Abby was my maid of honor, she was the absolute best!
How will you do your Maid of Honor Proposal?