One silver-lining of quarantine has been that I have more time to craft and I'm okay with that. It also gave me time to reorganize my craft supplies, I love my improved little craft corner. I also finished all my pages from our trip to Greece and France last year! To view those European pages, click here. Here are some of the other pages I've done during my stay-at-home time:
This two-page Disneyland Spread represents the countless times Henri and I have gone to the Disneyland Resort, from our second date in 2012 (top left corner). For my guide to Disneyland, click here.
Last summer we went to Disneyland to see the new Star Wars: Galaxy's Edge land. I made this page using black glitter paper as my background which worked really well to give the appearance of a starry galaxy.
I had a birthday brunch party at home this January and I am SO glad I did because who knew just two months later we would be locked up at home. It was so fun to get Pinterest-y and celebrate with mimosas and friends.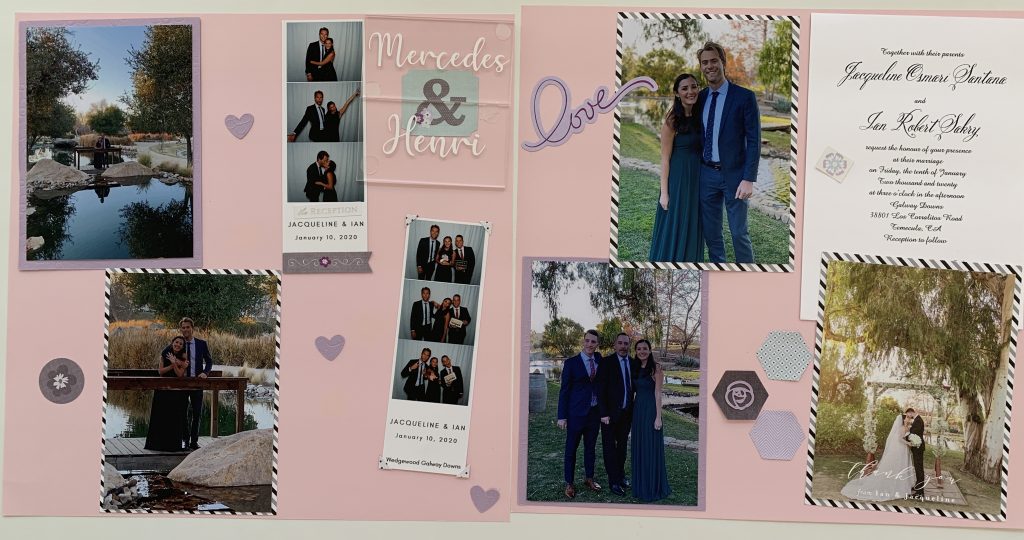 My cousin got married at the beginning of the year and looking back I am happy we had the chance to get dressed up, be with family, and drink too much wine while dancing. I used her wedding invitation and thank you card as part of my two-page layout. I also used the place cards which she made with Cricut on the first page.
For this Sequoia Meadows page I used my Cricut to cut out the yellow butteries and "Wanderlust" title.
The title on this Sequoia page could have been better, but I was happy with the overall layout and mix of patterned papers. I was also really happy with the way my Cricut-cut trees came out.
I had been holding on to these cute flamingo-watermelon stickers that I got at the Dollar Tree for awhile now. Then I remembered we went to the zoo when we visited San Diego last year, so this was a great use for them. I used my Cricut to cut the title, scalloped circle, and used its' writing feature to journal.
This page was long overdue, we visited Chicago in 2018. I went with a white background to compliment the busyness of the patterned paper. I used little scraps of paper to cut the triangles around the title to mimic the paper.
My younger brother joined the Army last year and my parents and I flew to Georgia to see him graduate. It was the quickest turnaround, I think the entire trip was less than 48 hours. So I made this obnoxiously American page with some star paper I had from a 4th of July paper pack I once bought at a garage sale. I also kept the program from my brothers graduation, I think he'll appreciate that later in life.
Which page is your favorite?
* I am an affiliate with Cricut, Micheal's Craft Stores, and Dollar Tree. By using my links I will be compensated if you make a purchase when using my links.