Or course, all our major plans for 2020 were canceled. Like our June trip to Peru and a family visit to Paris to see Henri's grandparents. But, what really led us to the beachside town of Carlsbad?
A restaurant called Cold Beers and Cheeseburgers. A basic name? Yes, but the burgers are so good! We used to go to this place in Scottsdale, Arizona when we were in college. I went to ASU and Henri went to UofA, so we spent a lot of time around Arizona. We looked up their website to see their locations and were happy to find that there is one in Carlsbad which is closest to us. However, since it's over an hour drive from Henri's in OC we decided to make a trip of it.
Just a one night mini getaway was a much needed recharge. We splurged and stayed at a beachfront hotel called Tamarack Resort. It's not super resort-feeling, but it was so nice because we could walk across the street to the beach, to The Village, and hear the waves crash at night. The room was also big! And of course, I used Hotels.com so I collected a night on the rewards program. I highly recommend Hotels.com, I always use it and if you'd like to use it for your next trip please use my affiliate code!
Day 1
We arrived on Friday morning. On the way from Newport Beach we briefly stopped in San Juan Capistrano. We thought we might have breakfast there, but decided to drive all the way to Carlsbad and have brunch when we got there instead. I've never actually been to San Juan Capistrano and I grew up in SoCal. It's so charming, we will definitely make a day trip to see the Mission and town another time.
Once we arrived in Carlsbad, we checked-in and walked to a place called Swami's Cafe for brunch. It was SO good! We ordered a delicious lobster eggs benedict that had amazing breakfast potatoes. I also ordered the Swami Waffle which was a grain Belgian waffle with berries, it was good, but maybe had a little more cinnamon flavored than we liked. We are not big cinnamon fans, though, oddly I do enjoy a cinnamon roll ever now and then.
After brunch we walked The Village and enjoyed a few hours on the beach. We (Henri) watched the basketball game in our ocean front room, while I plucked my eyebrows before walking to dinner, lol.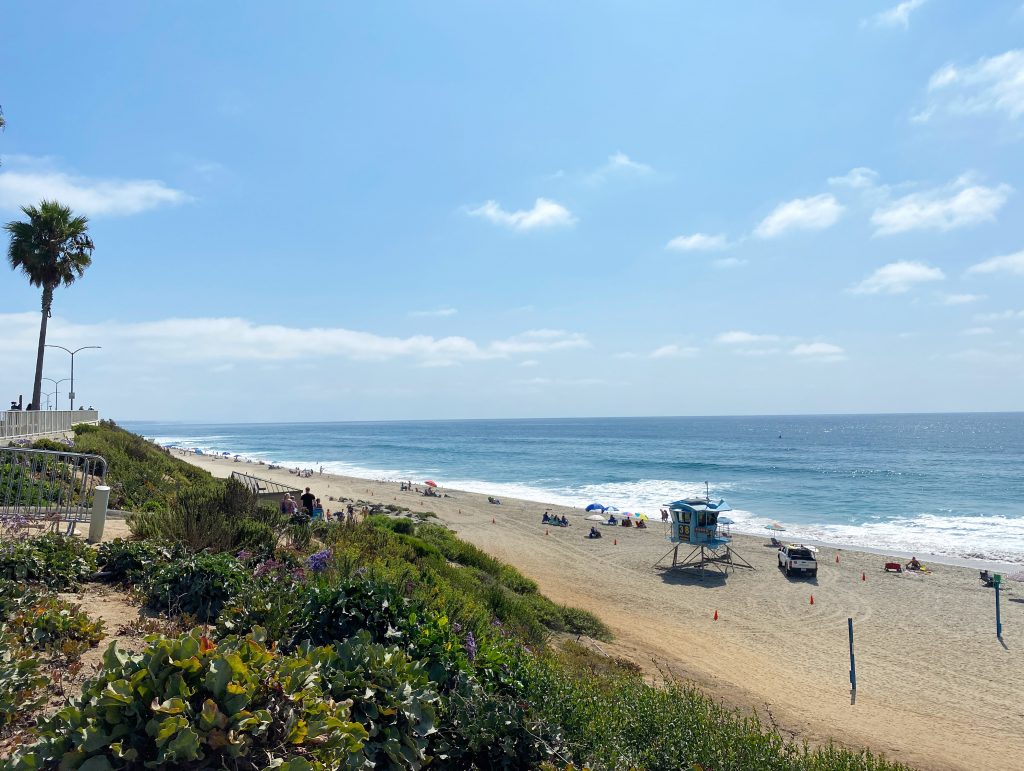 Then, we walked over to Cold Beers and Cheeseburgers for dinner and drinks. I think we were both a little worried it wouldn't be as good as we remembered, but it did not disappoint. It was still just as good as we remember, maybe even better with the side of nostalgia.
I ordered a burger with Gruyere cheese and mushrooms, called the CB&CB and Henri got the bacon blue burger. We always cut them in half and have half of each other's. Also get the onion rings, I like them more than the fries. They also have sweet potato tots at Cold Beers and Cheeseburgers. I didn't get them this time, but I do remember trying them in college because I love sweet potato.
We walked back to the beach for a long moonlit stroll along the coast, and also because we were so full, before calling it a night. We slept with our screen door open so we could hear the waves crashing all night.
Day 2
On Saturday morning, we slept in and went to Tamarack beach across from our hotel in the morning. Both of us woke up still full because we had so much the night before, so we decided beach first then brunch. We took our SmashBall set and a frisbee to play on the beach and read before the crowds started to flood in. We also needed to check out of our room by noon. Which was perfect timing because the crowds were starting to come in around 11:30 AM.
So we went back to the room to freshen up and pack our bags. We took the scenic route down the coastline to the other side of Carlsbad to have brunch at Beachplum and check out the outlets. The outlets are next to the flower fields, which weren't in season in September but I think I'll go back with my mom when they are in season in Spring.
Beach Plum was rated the number one brunch spot and you could tell it was a local favorite. We ordered the California Eggs Benedict and the Coconut Almond French Toast. The eggs benny was fine, it was missing something, probably meat honestly. BUT the French toast was fantastic! Even Henri liked the French Toast and he's not into French Toast at all. He even said "Okay, you were right to order the French Toast." Shoutout to the waiter for recommending it.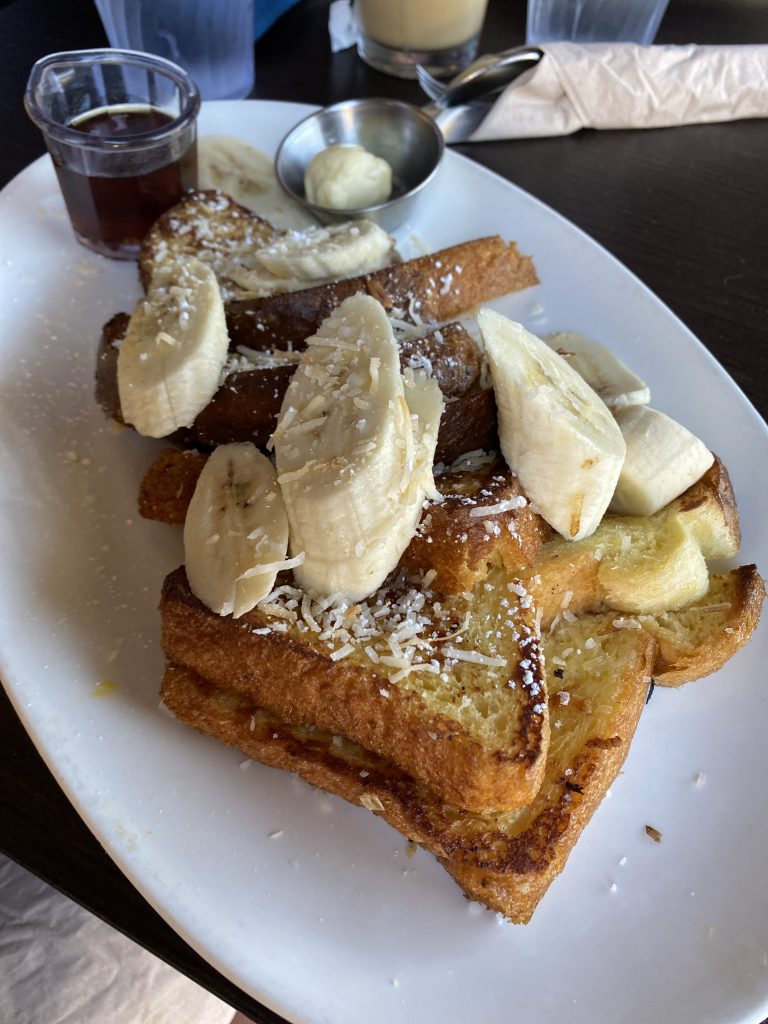 We did a little outlet shopping after, which was okay. Outlet shopping in COVID is kinda ehhh. Because besides the obvious fact like wearing a mask you also can't try anything on. But I did walk home with a new Kate Spade purse I did not need, but was too cute and well priced to pass up. And Henri and I both bought clothes at Lacoste.
We went back towards the South Carlsbad beaches after shopping. We parked along the street and walked down to a place were we saw a lot of surfers going. Henri loves to surf and really regretted not bringing his board. He could have because our hotel had underground gated parking and the surfing in Carlsbad seems legit. Now he knows for next time.
Just one night in Carlsbad was a great reset after months of being at home. We felt like we had left for a long time, weekend getaways are so necessary!
Where do you recommend we go on our next weekend trip?