I saved some save or pebbles from beach trips because I knew I wanted to make these. I also usually keep tickets and other memories for scrapbooking so I had items for some of the other countries. Maybe I'll start collecting real ornaments when travel opens again, but for now these match my pink tree.
My pink tree was given to me by parents years ago, probably in 2007-ish because well, I love pink. It's been a tradition ever since. Most years I would put it in my room, the past few I took it into my office, and this year it's in my living room/home office/the corner of where I spend all my days.
This was actually a super cheap DIY because I found the clear plastic ornaments at the Dollar Tree and had some extra pink vinyl scraps. The plastic ones are perfect because they won't break if my golden retriever, Havana, knocks my tree over. I played with different fonts that I uploaded to Cricut. Which I was thinking I might make a quick how-to video on in case that would be helpful. Would that be helpful to anyone out there?
Anyways, here's all you need to make these:
Supplies
Cricut mat (they're having a great sale right now, only $7.75 for 2 mats!)
Trinkets from travel
Directions
Design your cut in Cricut Design Space, I played with different fonts.
Cut design and carefully weed out the excess vinyl.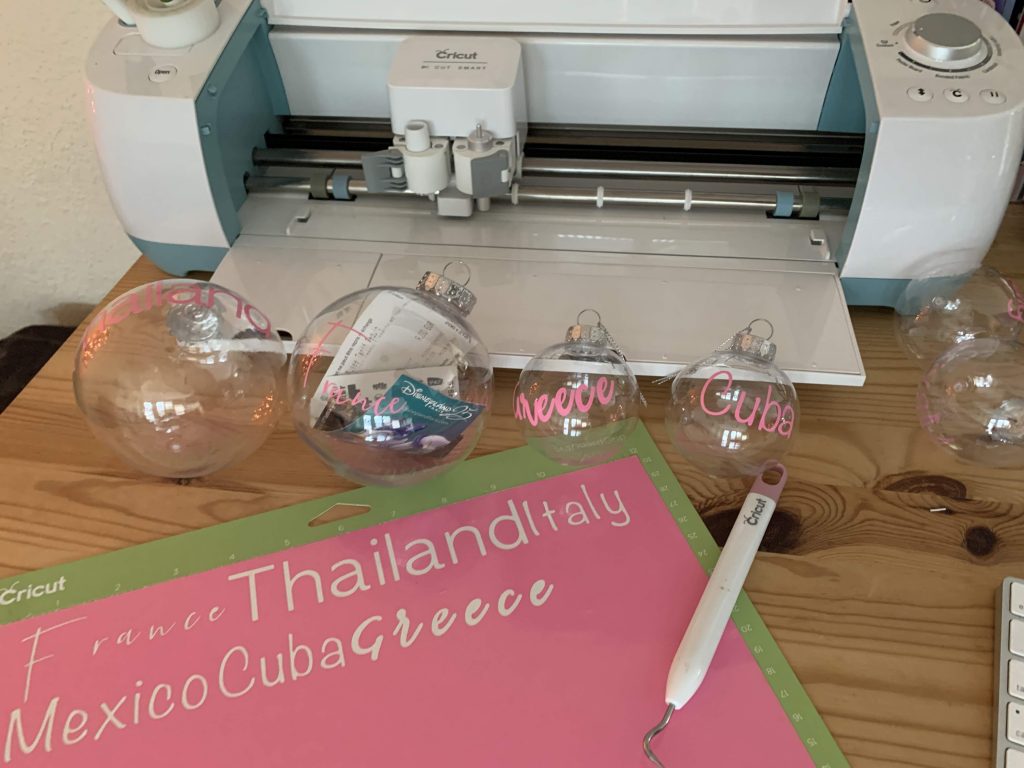 Fill your clear ornaments with whatever trinkets your heart desires and add your phrase or image to the ornament and ta-dah!
You can get creative and use this same idea to make gifts for your loved ones. Add photos, movie tickets, or other small momentos for an easy and sentimental holiday gift.
What will you be crafting this holiday season?
For more crafts, click here.


*Affiliate links are included in this post with my partners at Cricut, Micheal's Craft Store, and Dollar Tree. I sincerely appreciate any purchases you make with these links.