I get a lot of DMs on Instagram anytime I post my breakfast on my stories. Especially when I post my variations of avocado toast. But, it's all really simple and I hardly ever get avocado toast when we go out for brunch because it's so simple to make (and much cheaper!) So let's talk about the hack to the perfect poached egg first because that's my favorite way to have an egg.
The Perfect Poached Egg
A poached egg is also super simple, it's all in the timing. First, you need to boil water and white vinegar. When that's boiled, crack your egg into a dish and drop it in for 4 minutes. AND only 4 minutes. Set a timer for 4 minutes IMMEDIATELY. No sooner, no longer.
My advice is prep the rest of your toast or bagel before dropping the egg in so when it's done you can top it off and breakfast is ready. If you try doing all the prep in the 4 minutes you'll leave it in too long and then you have a weird half hard boiled half poached kind of egg. Also you need to master a poached egg for an eggs benny.
Making the quintessential SoCal avocado toast really is even easier and so is upping your game. Add smoked salmon, buy "Everything But the Bagel" seasoning, experiment with new breads, add more veggies, skies the limit! Some variations I like:
Basic (-ish) Avocado Toast
Smashed avocado, everything but the bagel seasoning, and a poached egg. I often add extra veggies in too to get my servings in. Think sprouts, spinach, tomato, even cucumber.
I typically buy Dave's Killer bread at Costco and freeze one of the two loafs until I'm ready to eat it. I love this bread! It's healthy, the flavor and texture are great, and it's a solid deal at Costco. This simple toast is also good on an english muffin!
Salmon Bagel Sandwich
Not toast, but I love a good bagel Friday or weekend sammy on an everything bagel.
Everything bagel, cream cheese, salmon, spinach, tomato, scrambled eggs.
Salmon Avocado Toast Varieties
Bread of your choice, avocado, salmon, spinach, cucumber, tomatoes, sprouts, red onion, capers, eggs. If I'm having a bagel I usually do cream cheese and no egg.
I also enjoy swapping spinach for argula and I will occasionally change my poached egg for a sunny side up version.
Turkey Toast
Bread of choice, turkey, avocado, tomatoes, cucumber slices, sprouts, and poached egg.
Peanut Butter, Honey, Banana (PB,H&B) Toast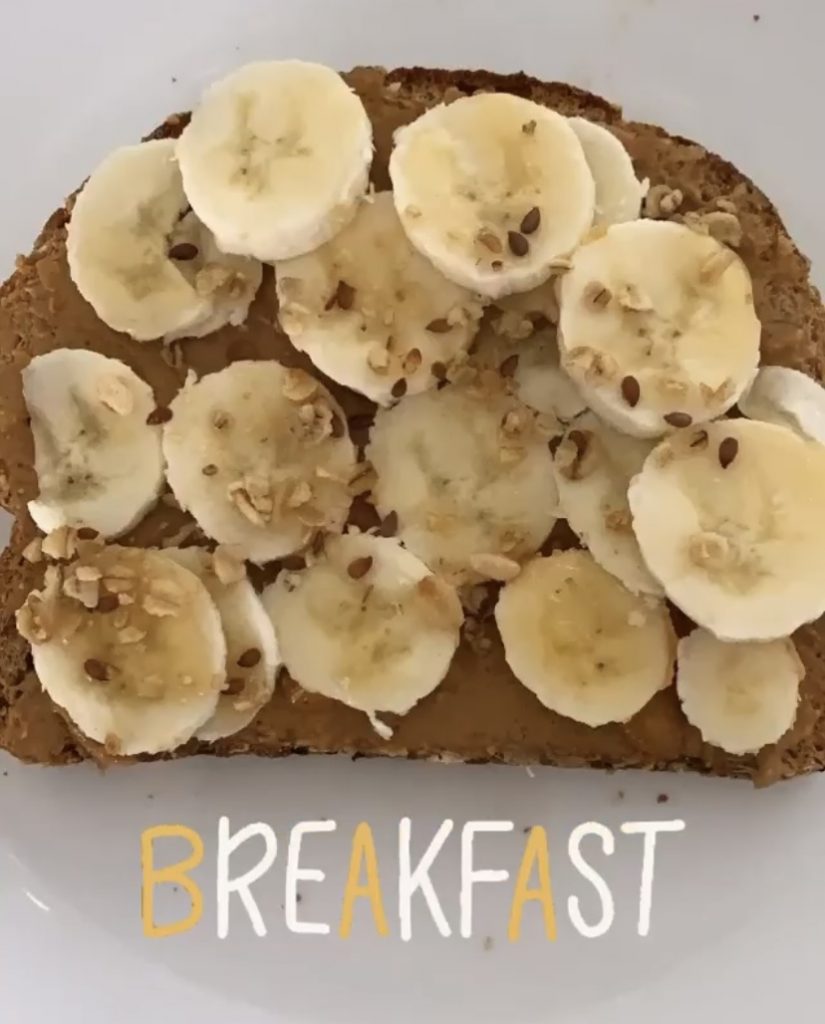 One of my favorite toast recipes, PB,B&H! I eat this combo a least once a week. Peanut butter, thinly sliced bananas, a drizzle of honey, chia seeds, or granola.
I love all these varieties of toast combos, but I think my favorite is avocado with smoked salmon, everything but the bagel seasoning, and a poached egg. And peanut butter banana toast.
Let me know what kind of toast you like and which recipe you cant wait to try in the comments below!