I love making cookies with my mom for the holidays, it's more like a craft project than baking because each cookie is a little work of art.
We took an online cookie class with TinyKitchenTreats on Brit+Co at the beginning of the pandemic and made some Easter cookies I am really proud of!
This class taught us new piping techniques and came with practice sheets to put under parchment paper to put our piping skills to the test. The class also came with TinyKitchenTreats owner Marisol's coveted sugar cookie recipe AND royal icing recipe. It was a really fun way to spend a rainy weekend.
So, it was time to make some Valentine's Day cookies. After I spent some time (okay HOURS!) looking on Pinterest for design ideas we got to it. My mom is really good, she has a steady hand and beautiful handwriting. After some practice, I got better too. I highly recommend practicing on the parchment paper first each time you go to decorate cookies!
For the cookie recipe, we still like to use this classic Wilton roll out sugar dough. We also use their royal icing recipe, and check out the tips on consistency. For the royal icing you'll need Meringue Powder. You can find it at Micheal's, occasionally Walmart, and definitely at cake supplies stores! I have a Cake Walk store near me.
I packaged some of them in a heart-shape tin from the Dollar Tree to give to Henri for an early Valentine's gift. BTW the Dollar Tree has a new amazing Craft Section you need to check out! I also packaged some to drop off to my bestie! Don't forget Valentine's Day if for more than just your romantic partner! And this activity is fun for all ages so grab your kids, mom, or quaranTEAM and have a fun cookie decorating night!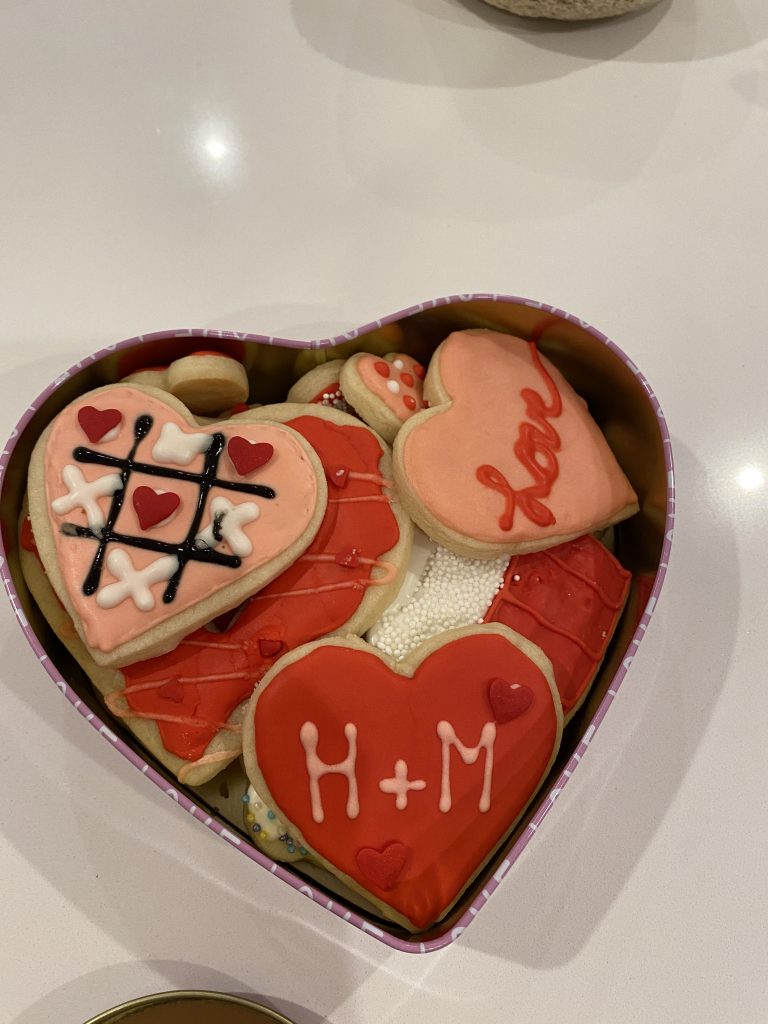 Which cookie designs do you like best? Let me know in the comments below!